Our forecast continues to hold for today. Much of North-Central Alabama continues to see snow showers. Temperatures remain well below freezing in most locations and any snow that is falling is sticking to the surface it falls on. Many areas along and north of Interstate 20 are receiving a dusting this morning. While areas to the south will continue to see the heavier accumulations.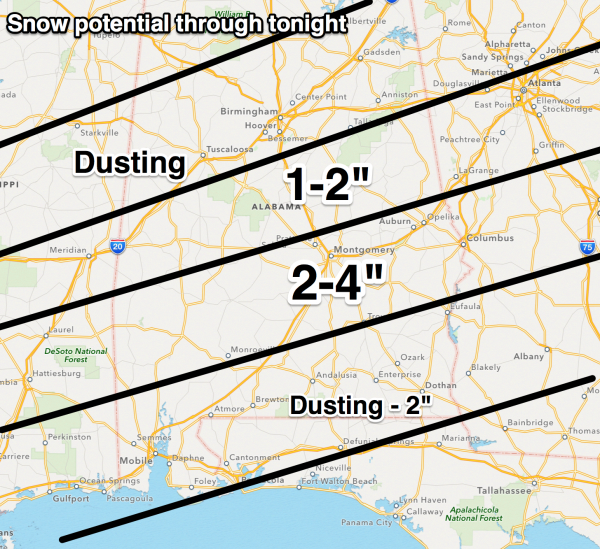 Many areas in Central Alabama are seeing a rain/freezing rain/sleet mix. Areas from Livingston, Clanton, and Wedowee and locations to the south are seeing significant icing problems this morning. A Civil Emergency has been issued for many areas along U.S. 80 where law enforcement is strongly recommending people stay off the roads. Many bridges are reporting ice and glazed conditions with numerous accidents occurring.
To the west, similar conditions are being reported in East Central Mississippi and areas across Central Alabama will continue to see treacherous conditions for the duration of this event. Throughout the day, we will begin to see all precip across the state to switch over to all snow.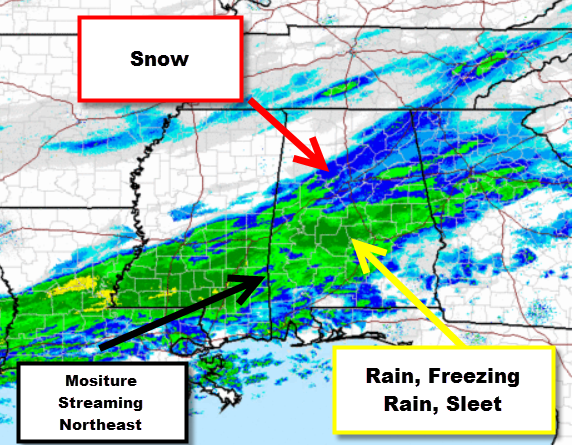 Category: Alabama's Weather, Winter Weather
Montgomery Television Meteorologist and long time Contributor on AlabamaWX. Stormchaser. I did not choose Weather, it chose Me. College Football Fanatic.
@Ryan_Stinnet