Just a few notes; my next full discussion will be posted around 6:00 a.m. tomorrow.
*The new 00Z model data is rolling in. The NAM has come in a bit warmer, suggesting the freeze line will be north of Birmingham Monday morning as precipitation moves in.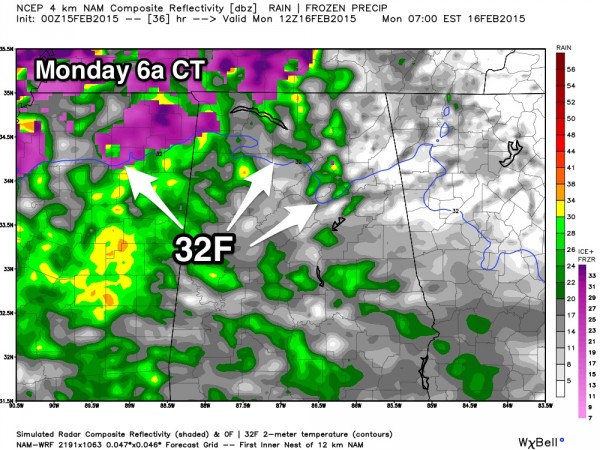 Let me caution you that at this phase of the game, it is best to get your head out of computer model output and look at real-time, observed weather. The NAM is probably underestimating the depth of the cold air about to move into Alabama…
It is 12 below zero (F) at Hayward, Wisconsin tonight, and that pure Arctic air will move into Alabama after midnight tonight. We will watch temperatures tomorrow and get a real idea of the airmass moving in.
BOTTOM LINE: No doubt parts of North Alabama will have icy travel Monday morning due to freezing rain (and probably some snow north of the Tennessee River). The hardest part of this forecast is defining the southern boundary of the bridge/road icing. For now we have the southern extent of the icing along a line from Aliceville to Centreville to Calera to Roanoke.
I do believe there will be a strip of heavy ice accumulation (.3 inch or so) somewhere over North Alabama.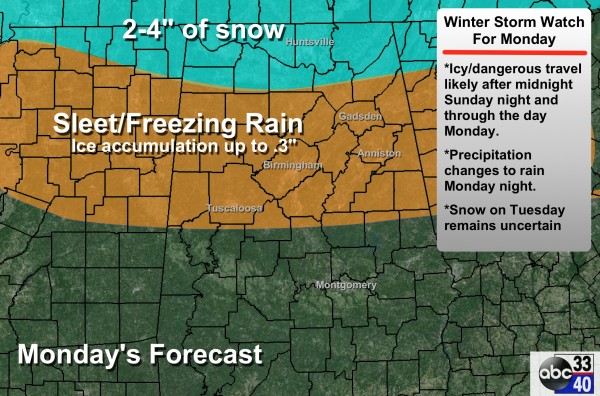 It could very well be a morning with Gardendale getting lots of ice and serious travel problems with temperatures in the upper 20s, while Alabaster just has a cold rain with temperatures in the mid 30s.
We won't be changing anything over the next few hours; changes, if needed, will be reflected in the early morning update tomorrow.
ALABAMA POWER IS READY, ARE YOU? Our friends at Alabama Power are monitoring the forecast closely, ready to deploy people and assets to quickly address any outages that might occur. Read a special message from Ike Piggot about their commitment to their customers.
Stay tuned…
Category: Alabama's Weather
James Spann is one of the most recognized and trusted television meteorologists in the industry. He holds the AMS CCM designation and television seals from the AMS and NWA. He is a past winner of the Broadcast Meteorologist of the Year from both professional organizations.