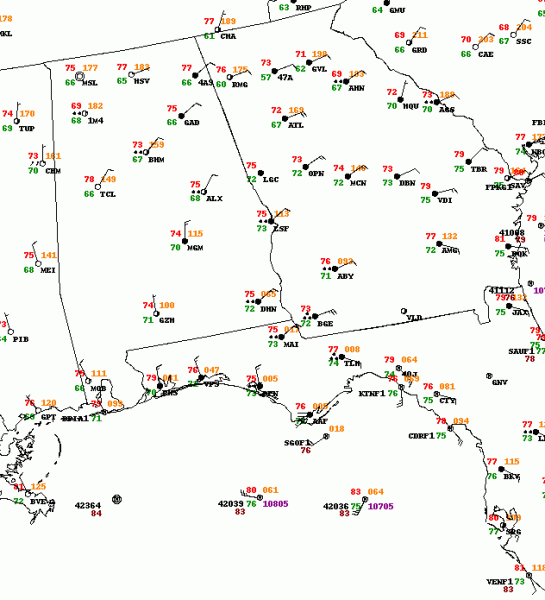 Here is the 7 a.m. info on Fay…
Location…wobbling around Gulf and Franklin County in the Panhandle…nort of Apalachicola and east of Panama City.
Movement…I think nearly stationary. I saw one forecaster comment is a discussion that the Upper Low to the northwest over Arkansas was stopping Fay's forward motion. But the Hurricane Center lists the longer term motion as 7 mph to the west.
Top winds…45 mph
Central pressure…a little less than 1000 mb as determine by surface observations. Officially 998 mb in the new advisory.
Overall appearance on satellite…Fay is definitely less organized than 12 hours ago as depicted on satellite. It does not have the impressive outflow that it had last evening. But that does not diminish its ability to produce incredible rains. And we note that cloud tops are cooling near the center again.
Heaviest rains…are occurring in the big band from northern Florida into southwestern Georgia and southeastern Alabama. Cloud tops are cooling in the band over Apalachee Bay, on the eastern side of the center, and this thunderstorm activity will be training into the eastern Panhandle around Tallahassee up into southern Georgia. The flash flooding threat is going to continue to increase.
Tropical storm warnings have been extended west to Grand Isle in Louisiana including New Orleans and Lake Ponchartrain.
Severe weather…i.e. tornadoes…is possible today over southern Georgia…northern Florida and Southeast Alabama. Tornado watch 857 has been issued: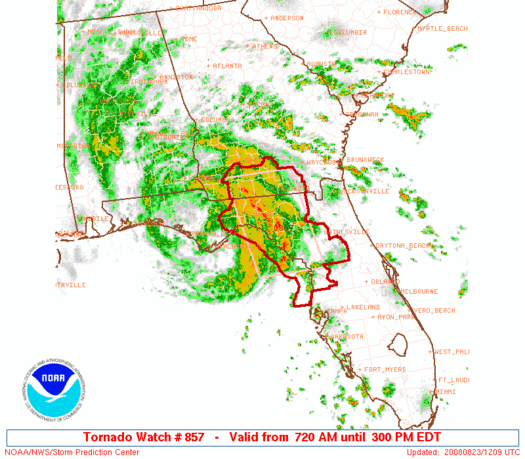 SPOT REPORTS
Panama City/Tyndall…light rain/fog…75F/73F…N 10…29.54 (lowest pressure)
Apalachicola…light rain/fog…75F/73F…SW 10…29.55
Marianna…light rain/fog…75F/73F…NE 25 G 32…29.59
Tallahassee…light rain/fog…75F/73F…NE 25 G 32…29.57
Cross City…light rain/fog…75F/74F…SE 14 G 23…29.77…pressure rising rapidly
Category: Uncategorized
Bill Murray is the President of The Weather Factory. He is the site's official weather historian and a weekend forecaster. He also anchors the site's severe weather coverage. Bill Murray is the proud holder of National Weather Association Digital Seal #0001
@wxhistorian