Brian Peters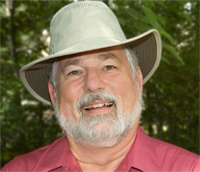 As a kid, I used to kneel on the sofa looking out the living room window of my home in Vermont watching thunderstorms in progress. When my family moved to Florida, Hurricane Donna piqued my interest in weather due in part to the professional presentation of a television meteorologist named Roy Leep. Roy was a true degreed meteorologist well ahead of his time who broke the mold of the entertainer as weather person.
It was on to Florida State University where I earned my Bachelor of Science degree in Meteorology. I was fortunate to work for the Weather Bureau, predecessor to the National Weather Service (NWS), each summer following graduation from high school. While other kids were doing the typical part-time jobs like clerking, grocery bagging, and life guarding, I was learning to take surface weather observations and processing upper air observations.
Working with the NWS across the Southeast US nurtured my interest in severe weather. Another influence on my life came from Alan Moller. I used to go with Alan on some of his spotter training presentations and gained a valuable understanding of the importance of spotters and storm structure. Over time I also gained experience in storm surveys. My exposure to training by Tim Marshall on the effects of wind on structures has proven beneficial when trying to sort out details after a storm.
Having done weather forecasting across the Southeast, I was again fortunate to serve as one of only 15 forecasters on the Olympic Weather Support Team during the 1996 Summer Olympics in Atlanta. During my first year with ABC 33/40 in Birmingham, I fulfilled a lifelong desire to fly with the Hurricane Hunters. I was on a flight that went through Hurricane Ivan four times including several passes while it was a Category 5 storm. I later was detailed to Gulf Shores to greet the storm as it came ashore.
Weather has been more than just a profession with me. I have a passion about the weather and appreciate the opportunity to share insight into the weather each week as part of the WeatherBrains crew.