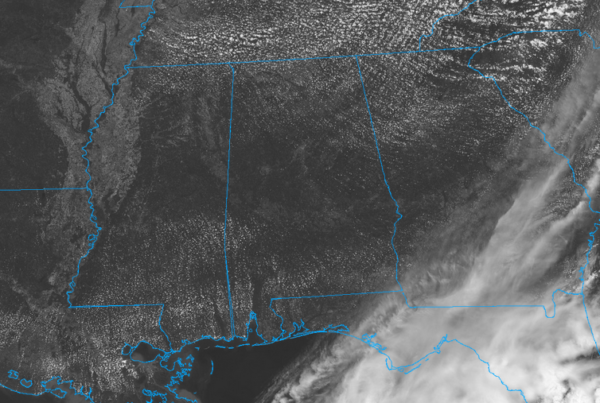 What a wonderful day out there across Central Alabama as we are approaching the 1 o'clock hour. Plenty of sunshine with a few fair-weather clouds floating overhead mainly in the northeastern parts of the area and over the extreme southwestern parts. The rest of the area have clear skies. Temperatures are in the mid-70s to the mid-80s from north to south across the area. Birmingham was at 79 degrees.
Other than a few smaller fair-weather clouds floating overhead, skies will remain sunny and clear for the remainder of the afternoon and into the early evening hours. With the much drier air in place, those afternoon highs in the upper 70s to the mid-80s will feel much more like early to mid-spring instead of nearly the beginning of summer. We'll have clear skies and cool conditions across the area tonight with lows in the lower 50s to right around 60 degrees.
In case you are wondering about the summer solstice, it takes place at 10:54 am on June 21st. On that day, we'll experience 14 hours, 22.4 seconds of sunlight. Sunrise will take place at 5:37 am CT and sunset will be at 8:00 pm CT. We have already crossed over into "meteorological summer," but the first day of astronomical summer is June 21st.
Friday's weather will be another comfortable mid-June day as we'll continue to have plenty of sunshine and lower humidity levels. Highs will be just a tad warmer, reaching the lower to mid-80s across the area. We'll have a few clouds start to move in across the area during the late night and overnight hours but no rain is expected. Lows will remain a little warmer with the clouds only falling to the upper 50s to the mid-60s.
A QUICK LOOK AT THE TROPICS
The Atlantic Basin remains quiet today and no new tropical cyclones are expected to develop during the next five days.
ON THIS DAY IN WEATHER HISTORY
1988 – Afternoon thunderstorms produced severe weather in the Southern and Central Plains Region. Forrest NM was deluged with 5.5 inches of rain in ninety minutes. Temperatures soared into the 90s across much of the eastern half of the nation, including New England. Northern Illinois reported a record twenty straight days of dry weather.
BEACH FORECAST CENTER
Get the latest weather and rip current forecasts for the beaches from Fort Morgan to Panama City on our Beach Forecast Center page. There, you can select the forecast of the region that you are interested in.
Category: Alabama's Weather, ALL POSTS
Scott Martin is a meteorologist, graphic artist, musician, husband, and a father. Scott is a member of the National Weather Association and the Central Alabama Chapter of the National Weather Association. Scott is also the co-founder of Racecast Weather, which provides accurate forecasts for many racing series across the USA.