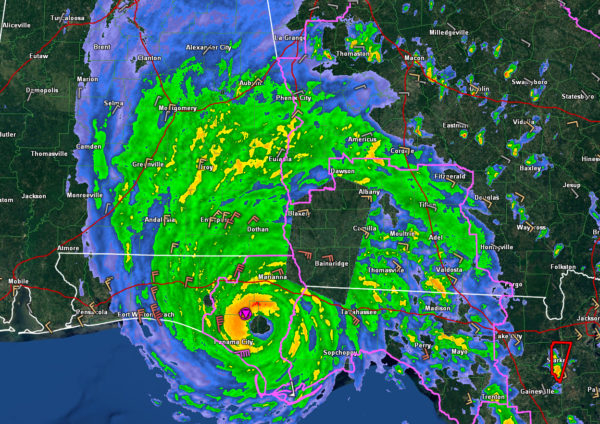 Hurricane Michael is passing northeast of the City of Panama City at this hour. The large eye is going to pass over Youngstown, Florida. It will continue to move north northeast, passing near Frink and Altha before crossing I-10 east of Marianna.
People in the path of the eyewall, including Youngstown, Kinard, Frink, Blountstown, and Altha as well as Chattahoochee should be preparing to shelter like they were preparing for a tornado: interior room, smallest space possible, with a helmet on. This is an extremely dangerous wind event that will cause injury and death.
Hurricane force winds will move up into southwestern Georga, affecting places like Bainbridge and Albany. It will be a significant disaster for Georgia with lots of wind damage and massive power outages.
A tornado watch is in effect as well for North Florida and southwestern Georgia. There is currently a tornado warning southwest of Jacksonville, Florida.
Heavy rain has overspread the southeastern quarter of Alabama generally bounded by I-65 and I-85. A really heavy light rain (that sounds weird) covers most areas east of US-43 in West Alabama and along and south of I-20
The rain is just reaching I-459 in the Birmingham area.
Winds are gusting to 15-20 mph across South Central Alabama at places like Troy and Selma. Winds will become gustier as e go through the afternoon and evening. But tropical storm force winds will only affect Southeast Alabama and winds will only reach 30 mph at times up to I-59 and 20 mph north of there.
Damage is significant in the Panama City area, as well as in the coastal communities south of Panama City, like Mexico Beach, Cape San Blas, St. George Island and Apalachicola. Winds gusted to 129 mph at Tyndall AFB and 116 mph in Panama City.
Michael is the strongest October landfalling U.S. hurricane on record and the third strongest when ranked by central pressure. It is the fourth strongest when ranked by max winds.
Comments
Powered by Facebook Comments
Category: Alabama's Weather, ALL POSTS
Bill Murray is the President of The Weather Factory. He is the site's official weather historian and a weekend forecaster. He also anchors the site's severe weather coverage. Bill Murray is the proud holder of National Weather Association Digital Seal #0001
@wxhistorian