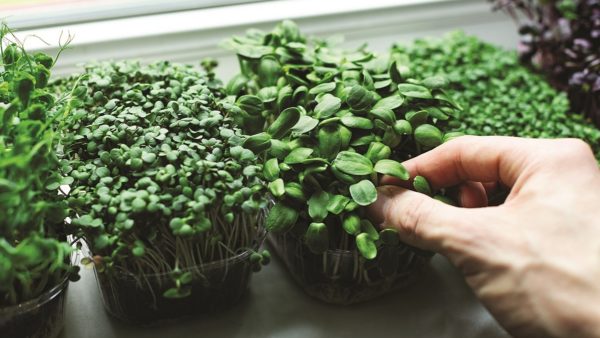 The complete article can be found at AlabamaNewsCenter.com.
By Katie Jackson
Alabama Living
Microgreens, those tiny, delicate plants that often adorn upscale restaurant dishes, are hugely popular in culinary circles and can also be an enormously fun crop to grow at home.
Though microgreens may look like exotic Lilliputian plant species, they are actually nothing more than seedlings of everyday edible plants such as lettuces and leafy greens, vegetables, herbs, flowers, grasses and grains. However, because they are harvested at tender ages (often within a week or two after planting) microgreens possess unique characteristics that set them apart from their elders.
First embraced in the 1980s by San Francisco-area chefs, they were used to add color, flavor, texture and charm to a wide variety of dishes – from appetizers and main courses to desserts and even smoothies. Turns out, these darling little garnishes were not just pretty, they were healthful and nutritious. In fact, some species contain 40 times the concentration of vitamins, minerals and antioxidants than their mature relatives.
Click HERE to see the full article on the Alabama NewsCenter website.
Category: ALL POSTS, Partner News Stories
Alabama News Center tels the stories of the people and businesses powering the states of Alabama, striving to make Alabama a wonderful place to live and work.