July Almanac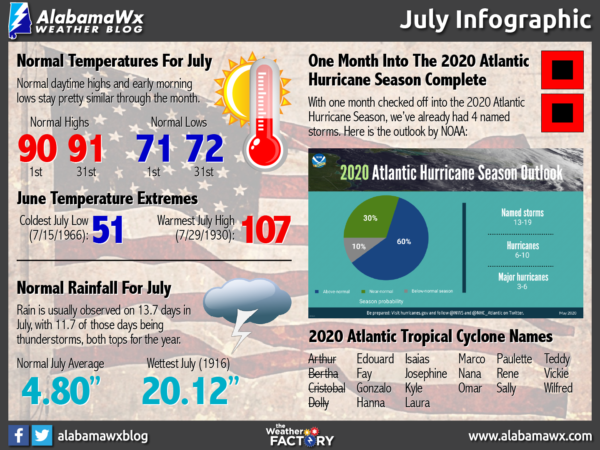 Updated for 1981-2000 climatological norms.
July is known around these parts as the hottest month of the year, and that is completely expected. For the month, the average daytime high is 90.8ºF, with the average overnight low at 71.4ºF. The temperature reaches 90ºF or above on average in July. The hottest day ever in Birmingham was recorded on July 29, 1930, as the thermometer soared to a sweltering 107ºF. On 16 occasions, the high for Birmingham has reached 105ºF or higher, with eleven of those times observed in the month of July. The coolest reading ever observed in Birmingham during the month was back on July 15, 1967, when the low reached a cool 51ºF.
July is not known to be the sunniest month of the year, with only 59% of possible average sunshine. There are six months that actually average more sunshine. On 13.7 days of the month, rain is usually observed in Birmingham, with 11.7 of those days involving thunderstorms, both tops for the year. On average, 4.80 inches of rain falls during the month of July, but it can be a lot wetter or a lot drier. The most ever for July was observed back in 1916 when 20.12 inches fell, making it the wettest month ever in the history of Birmingham. In 1983, only a whopping 0.30 inches of rain was observed, which is the driest month on record for Birmingham.
Hope that you get acquainted with this weather because it will be with us for a while. There really isn't that much difference on average between July and August.

Photograph by Kathy Bell, owner of kbella photography.