May Almanac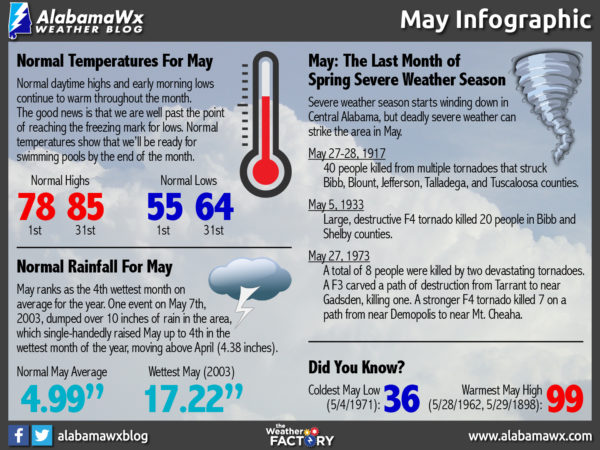 Updated with 1981-2010 Climatological Norms
The fifth month of the year is one of my favorites in Central Alabama. We see some of the finest weather of the year, with runs of fine, warm and sunshine filled days. It reminds me a lot of October, its closest cousin, but generally warmer and somewhat stormier. The average percentage of possible sunshine is 66 percent, equal to October, which is the other sunniest month of the year.
The average high and low for the month in Birmingham is 81.5F and 59.7F respectively. At the start of the month, the average high is 78F, but it rises to 85F by the end of the month. Overnight lows really warm, rising from 55F on May 1st to 64F on the 31st. The coldest May reading ever in the Magic City is 36F on May 4, 1971. The warmest reading ever in May was 99F on May 28, 1962, and May 29, 1898. It generally reaches 90F or warmer 1.9 days in the month.
Heating degree days are nearly zero in May, but cooling degree days start to really rise as we head toward the unrelenting heat of summer.
May used to be a drier month than April. Until 2003 that is. 5.71 inches of rain fell on the 7th that month, which skewed the average higher. The average May rainfall at the Birmingham Airport jumped from 4.4 inches to 4.99 inches because of that single event. A tremendous flash flooding event occurred across Central Alabama that day, with higher amounts reported just northeast of the Airport. 10.50 inches of rain fell on Edwards Lake Road and JB Elliott recorded 9.82 inches just northeast of Trussville. Not surprisingly, May 2003 went on to become the wettest fifth month with 17.22 inches of rain. The driest May on record occurred in 2000 when 0.88 inches fell.
It usually rains on 9.1 days on average and rains more than 1 inch on 1.4 days. Thunderstorms occur on 9 days. The average dewpoint is starting to climb, rising from 49F in April to 58F in May.

Photograph by Kathy Bell, owner of kbella photography.