February Almanac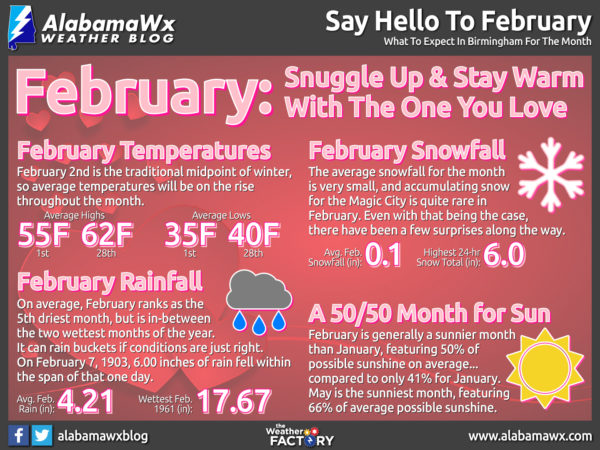 Updated to 1981-2010 Climatological Normals
February 2nd is Candlemas Day. It is the traditional midpoint of winter. By early February, Alabama is beginning to really feel the move toward spring. Days are lengthening and average temperatures are slowing warming as the amount of sunshine increases each day. At the beginning of the month, the average high and low for Birmingham is 55F/35F. By the end of the month, the averages are 62F and 40F. On average, the mercury drops to freezing or below on 9.7 nights, down slightly from the 14.9 in January.
Birmingham's coldest day on record (-10F) occurred on February 13, 1899, during the mother of all U.S. cold waves. Records in Birmingham were kept at the U.S. Weather Bureau Office in Fountain Heights then. If the observation had been made at the current Airport location, the all-time low would probably be -14F. The warmest February reading on record in Birmingham is 83F, recorded on three different dates in history.
February is the middle month in the wettest three month period on average in the Magic City. During our "rainy season," we typically receive just under 15 inches of rain. On average, 4.53 inches of rain falls in Birmingham in February. 17.67 inches fell in February 1961, the wettest second month observed here. February 1968 saw only 1.20 inches of rain, the driest February ever. The 6.00 inches of rain that fell on February 7, 1903, is the daily record for the month.
Typically, it will rain on 10 days in February and thunderstorms occur on 2.3 days. By these measurements, February looks a lot like January. On average, Birmingham receives 0.1 inches of snow in February. The greatest daily amount of snow observed in the city is 5 inches on February 23, 1901.
After January, which features the lowest percentage of possible sunshine at 41%, February is sunnier featuring 50% of possible sunshine on average, moving toward the sunniest month, May which features 66% of possible sunshine on average. Fog reduces visibility to ¼ mile or less on one day during the month.

Photograph by Kathy Bell, owner of kbella photography.