April Almanac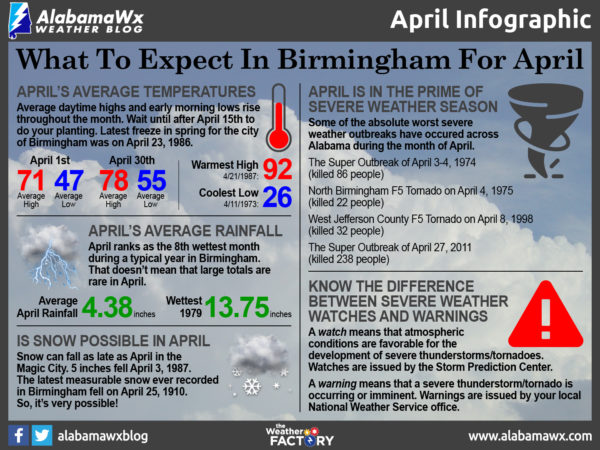 April is one of the most changeable months weatherwise in Central Alabama. It often features some of the finest weather of the year with spectacularly mild, sunny days and clear cool nights, but can often turn ugly with tornadoes, flooding rains and late season cold snaps.
The average high in Birmingham at the start of the month is 71F. By month's end, the average daytime high is 77F. The average low at the start of the month is 45F. By April 30th, the average is 52F. The warmest it has ever been in the month was 92F on April 21st, 1987, as Birmingham was in the middle of an unusual heat wave.
The coldest April reading in Birmingham history was 26F on April 11th, 1973. The temperature generally drops to freezing or below on 1.2 days in the month. The average date of the last freeze is March 30th, but freezing temperatures have been recorded as late as April 23rd, which occurred back in 1986.
Seven months of the year have more rainfall than April, and three have less. April's average monthly rainfall of 4.38 inches is a little less than an inch less than the 5.23 inches recorded on average in March, the wettest month of the year. 13.75 inches of rain fell in April 1979, a month that saw some of the worst flooding in history across Central Alabama. It can snow in April, as evidenced by the 5 inches that fell on April 3, 1987. It rains on 9.1 days on average.
Thunderstorms occur on 5.0 days on average. April is the prime severe weather season in Central Alabama. Some of the worst tornadoes in the state's history have occurred in April, including the Superoutbreaks of April 3-4, 1974 and April 27, 2011. The April 4, 1977, F5 tornado that ripped across the northern part of Birmingham killed 22 and the April 8, 1998 F5 that struck western parts of Jefferson County that killed 32.
The percentage of possible sunshine is on the increase in the month as we move further away from winter, averaging 63% in the month, not far from the 66% we see in May and October. The sky is cloudy 32 percent of the time. It is clear 28.7 percent of the time. On average, dense fog occurs on only 0.4 days a month.
April is the second windiest month of the year, with a mean wind speed of 7.2 mph, just behind March's 7.6 mph.

Photograph by Kathy Bell, owner of kbella photography.
Updated for 1980-2011 averages.