June Almanac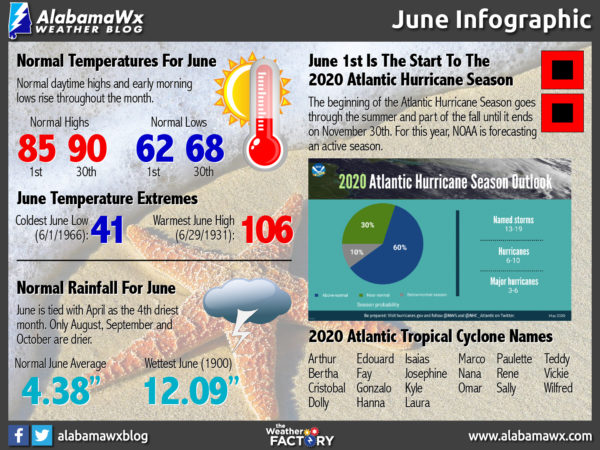 Updated for the 1981-2010 Climatological Averages
The sixth month of the year in Birmingham features warm temperatures, increasing humidity and generally light precipitation.
It is tied with April for the 4th driest month, averaging 4.38 inches of rain. Only August, September and October are drier. Afternoon and evening thunderstorms become a frequent occurrence, generally happening on 8.9 days during the month. In fact, much of the rain that falls in the month is associated with thunderstorms.
On average, measurable rain falls on 11.0 days during the month. 12.09 inches of rain fell in June 1900, which stands as the all-time record for the month. At the airport, where records have been kept for 69 years, the wettest month was June 1999, when 9.04 inches fell. Early season Gulf tropical cyclones sometimes produce heavy rounds of precipitation.
As you would expect, cloudy periods are rare. June is the second sunniest month, behind May, averaging 65% of possible sunshine. The average PM relative humidity is on the rise, at 73%, rising from the 64% observed in March. The average dewpoint reaches 67.4F, which exceeds my definition of muggy (65F). This is up from the 60.4F in May.
On June 1, the average high and low is 85/64. By June 30th, it will be 90/70 The coolest it has ever been in June is 42F on June 1, 1966. It has been as warm as 106F on June 29, 1931.

Photograph by Kathy Bell, owner of kbella photography.