December Almanac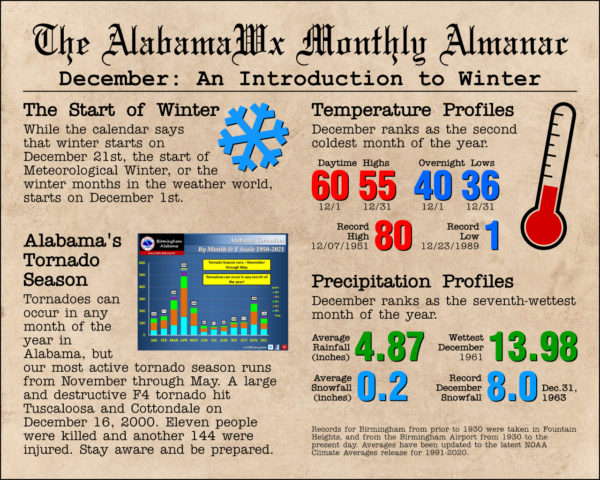 The year has quickly passed us by as we have now reached the month of December, and before you know it, New Year's Day will be here! On the calendar, it shows that winter starts on December 21st; however, in the meteorological world, December 1st is the start of Meteorological Winter.
The month of December ranks as the second coldest as daytime highs average 60ºF-55ºF from the start to the end of the month, with lows averaging 40ºF-36ºF. The coldest December reading recorded at the Birmingham Airport was 1ºF set back on December 23rd, 1989. However, it can be quite warm as well, as the Magic City hit 80ºF on December 7th, 1951.
December ranks as the seventh-wettest month of the year as the average is around 4.87 inches. The wettest December on record was set back in 1961 when 13.98 inches fell on the Magic City. Rain generally falls on ten days of the month. On Average, the sky is cloudy around 54% of the time.
Birmingham receives approximately 1.4 inches of snow per year, with 0.2 inches of that falling in December. On New Year's Eve back in 1963, eight inches of snow fell in Birmingham, making it one of the most memorable snowfalls.
December falls into our main tornado season that runs from November through May. In the month of December, we average just over 2 tornadoes per year; however, we can have tornado outbreaks as well. The last December outbreak to occur was back on Christmas Day of 2012. 17 tornadoes were confirmed to have touched down on what was supposed to be a day filled with joy. Unfortunately, we have lost 19 people to December tornadoes since 1950, and another 404 people have been injured. This is a reminder to stay aware and be prepared!
Records for Birmingham from prior to 1930 were taken in Fountain Heights, and from the Birmingham Airport from 1930 to the present day. Averages have been updated to the latest NOAA Climate Averages release for 1991-2020.