Scott Martin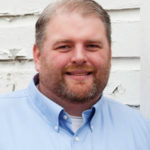 Scott Martin is a meteorologist who proves it is never too late to follow your dream. As a child, Scott was fascinated by weather and the wall-to-wall coverage that accompanied severe weather. Once he graduated from Shades Valley High School, he pursued a career in art, specializing in graphic arts and marketing. He continued in that career full-time until a shift in the economy resulted in a downsizing of his employer. Scott held a clerical position in the interim and eventually began to freelance in the graphics field. Even with the career changes, he remained an avid weather enthusiast.
Despite his forecasting on an amateur level, his forecasting accuracy and fascinations for weather phenomena quickly earned him the nickname "James" among his friends and family. On April 27, 2011, an EF4 tornado tore a path of destruction less than a mile from his home, and the passion for the weather he always had was intensified. Seeing the widespread damage and loss of property and life ignited a desire in Scott that was unmet by his career in the art field.
He was encouraged by his family to follow his dream. After much thought and prayer, Scott decided to follow his lifelong dream and pursue a career in meteorology. In the fall of 2012, Scott was admitted to Mississippi State University in the Distance Learning Meteorology program, and began his path to a degree. In November 2015, Scott received his Operational Meteorology Certificate from Mississippi State. In May 2021, Scott received his Bachelor of Science Degree in Geosciences – Operational Meteorology, also from Mississippi State.
Scott has been a member of the Central Alabama Chapter of the National Weather Association since 2012. He was the recipient of the 1st CA-NWA Scholarship in 2013. He has made an appearance on WeatherBrains (episode 394). In January 2015, Scott co-founded Racecast Weather, which provides accurate forecasts for many racing series across the USA. Scott was the president of the Central Alabama Chapter of the National Weather Association from 2018-2020.
Scott is married to his wife, Amy. Together they have 3 children, Charlotte, Shelton, and Maggie. In his spare time, Scott continues to freelance in the graphic design field and plays bass in his church praise band.