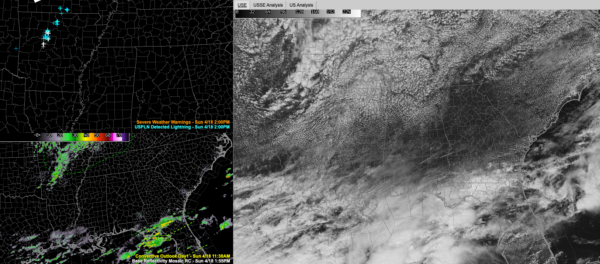 A gorgeous Sunday is in progress across Alabama.
Skies have been mostly sunny, although a nice field of cumulus clouds has developed over the northwestern quarter of the state, in the vicinity of a slug of low-level moisture passing overhead at 850 millibars. You can see clouds to the south associated with a slow-moving cold front that is over the northern Gulf.
But the amount of moisture available up and down through the atmosphere is still very low, so mostly sunny skies should be maintained, and a vigorous approaching disturbance will have little to work with tonight. You can see it manifested in storms over Arkansas.
But those storms won't make it into Alabama. Thusly, rain chances will be low to nil tonight.
Monday will feature a few clouds to start the day, but skies should clear quickly. Highs on Monday will be in the lower and middle 70s.
Another disturbance will be passing to our south along the Gulf Coast Monday night, and there could be a few showers over far South Alabama, but Central and North Alabama should be high and dry with lows in the upper 40s and lower 50s.
Tuesday will be a beautiful day with a good supply of sunshine and a southerly wind pumping in a little more warmth and moisture. Meanwhile, a shortwave disturbance will be passing to the north pushing a sharp cold front our way. But again, the showers will die out before they get into Alabama, and be limited to parts of Tennessee. Tuesday highs will be in the middle and upper 70s, Wednesday highs will be in the 60s.
Watch out for frost Wednesday night and Thursday morning though as temperatures fall into the middle and upper 30s north of I-20 Wednesday night.
Category: Alabama's Weather, ALL POSTS
Bill Murray is the President of The Weather Factory. He is the site's official weather historian and a weekend forecaster. He also anchors the site's severe weather coverage. Bill Murray is the proud holder of National Weather Association Digital Seal #0001
@wxhistorian