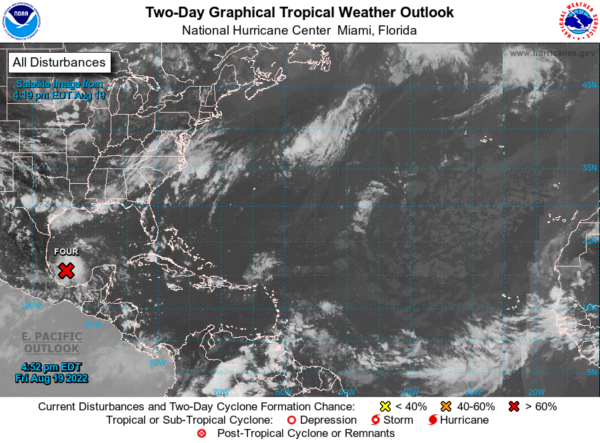 Showers and thunderstorms associated with the broad low pressure area in the southwestern Gulf of Mexico have become better organized during the last 24 hours, and reports from an Air Force Reserve Hurricane Hunter aircraft indicate winds near 35 mph (30 kt). However, both the aircraft and scatterometer data show that the disturbance does not yet have a well-defined circulation center. Since the system is likely to develop further and make landfall as a tropical storm in less than 36 h, advisories are being initiated on Potential Tropical Cyclone Four, with Tropical Storm Warnings being issued for portions of the coasts of northeastern Mexico and south Texas.
The initial motion is a somewhat uncertain northwest at 14 mph (315/12). The disturbance is on the southwest side of a subtropical ridge, and a general northwest motion should continue until the system moves inland over northeastern Mexico. The track guidance is tightly clustered, and the forecast track lies close to the various consensus models.
The disturbance is in an environment of light westerly vertical shear, and this should continue until landfall. This should allow continued development until the system reaches the coast, and the official intensity forecast calls for a peak intensity of 40 kt. near landfall. It should be noted, though, that the global models do not develop the system significantly before landfall, and if they are correct any development could be slower than currently forecast. The system will weaken after landfall, and by 60 h it is forecast to be absorbed into a larger low pressure area forming over western and northern Texas.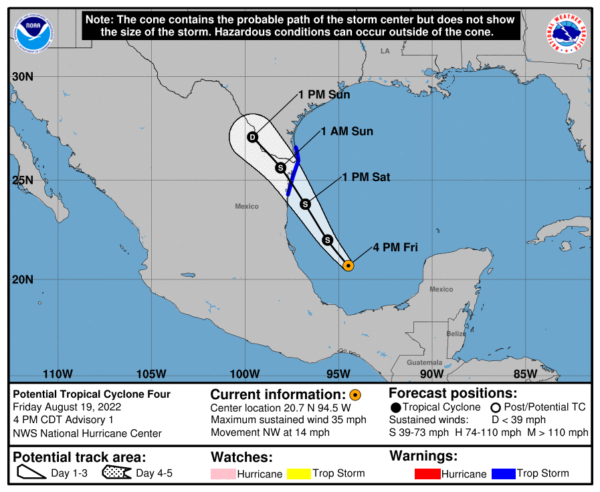 KEY MESSAGES:
1. Tropical storm conditions are expected across portions of northeastern Mexico and southern Texas on Saturday, where a Tropical Storm Warning has been issued.
2. Rains from the system may begin to affect the eastern coast of Mexico from northern Veracruz into southern Tamaulipas tonight into early Saturday. This rainfall may produce life-threatening flash flooding and mudslides. Rain from this system may move into far south Texas during the day on Saturday.
Scott Martin is an operational meteorologist, professional graphic artist, musician, husband, and father. Not only is Scott a member of the National Weather Association, but he is also the Central Alabama Chapter of the NWA president. Scott is also the co-founder of Racecast Weather, which provides forecasts for many racing series across the USA. He also supplies forecasts for the BassMaster Elite Series events including the BassMaster Classic.