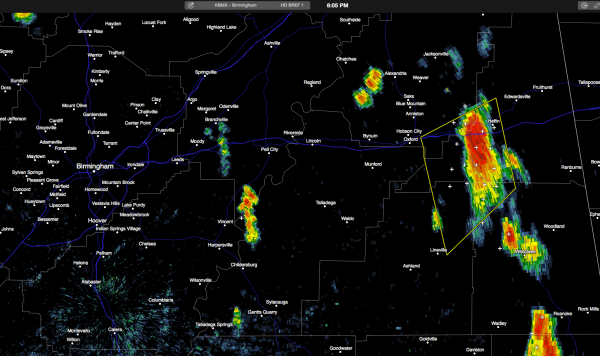 UPDATE 814 PM
Strong thunderstorms are over East Alabama tonight.
A severe storm is over southern Cleburne County pushing south toward Randolph and Clay Counties.
It is west of Heflin, crossing I-20. It has potential winds of 60 mph and hail to the size of pennies.
Other strong storms extend from west of Roanoke to near Opelika.
THE NATIONAL WEATHER SERVICE IN BIRMINGHAM HAS ISSUED A
* SEVERE THUNDERSTORM WARNING FOR…
SOUTHWESTERN CLEBURNE COUNTY IN EAST CENTRAL ALABAMA…
NORTHEASTERN CLAY COUNTY IN EAST CENTRAL ALABAMA…
NORTHWESTERN RANDOLPH COUNTY IN EAST CENTRAL ALABAMA…
SOUTHEASTERN CALHOUN COUNTY IN EAST CENTRAL ALABAMA…
* UNTIL 830 PM CDT
* AT 806 PM CDT…SEVERE THUNDERSTORMS WERE LOCATED ALONG A LINE
EXTENDING FROM NEAR HEFLIN TO NEAR DELTA…MOVING SOUTHWEST AT 10
MPH.
HAZARD…60 MPH WIND GUSTS.
SOURCE…RADAR INDICATED.
IMPACT…EXPECT DAMAGE TO ROOFS…SIDING…AND TREES.
* LOCATIONS IMPACTED INCLUDE…
ANNISTON…OXFORD…HEFLIN…LINEVILLE…BARFIELD…DELTA…
HOLLIS CROSSROADS…CAMP SEQUOYAH…CHALAFINNEE…
DEARMANVILLE AND MICAVILLE.
Category: Uncategorized