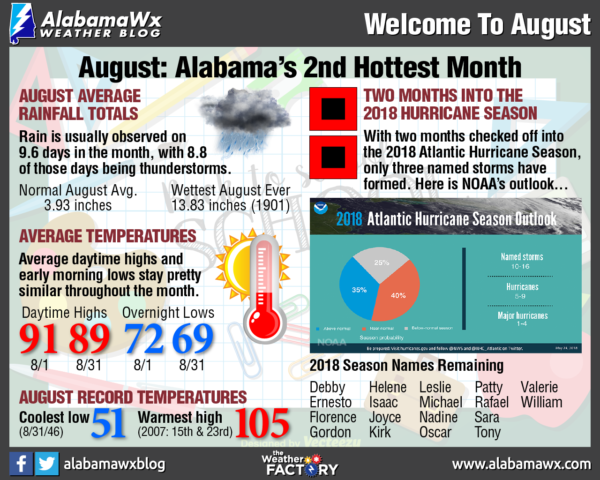 As we have now entered the month of August, we have started on the downhill run of summer. Temperatures will start to go down as we will have less solar energy this month, and you'll notice that the days are getting shorter.
July is the hottest month of the year for the Birmingham Metropolitan Area, but from mid-June to mid-August, there is very little difference in average daytime highs. At the beginning of August, the normal average high is 91º and the normal average low is 72º, but by the end of the month they will have dropped down to 89º for the normal high and 69º for the normal low. The warmest August days on record in Birmingham was recorded on August 15th and 23rd of 2007, when the mercury reached an astonishing 105º. The coolest low temperature was 51º, recorded on August 31st, 1946.
August is the least cloudy month of the year in Birmingham, with the sky being cloudy only 19% of the time. This is a misleading fact considering that the months of September and October have a lower percentage of mean sky cover. With that being said, rainfall only occurs on 9.6 days in Birmingham during the month of August, with 8.8 of those days having thunderstorms. The normal average rainfall for the month is 3.93 inches, which pales in comparison to the wettest August on record for Birmingham, at 13.83 inches back in 1901. The driest August on record was in 1989 when the rain gauge only recorded 0.38 inches for the month.
Category: ALL POSTS
Scott Martin is a meteorologist, graphic artist, musician, husband, and a father. Scott is a member of the National Weather Association and the Central Alabama Chapter of the National Weather Association. Scott is also the co-founder of Racecast Weather, which provides accurate forecasts for many racing series across the USA.