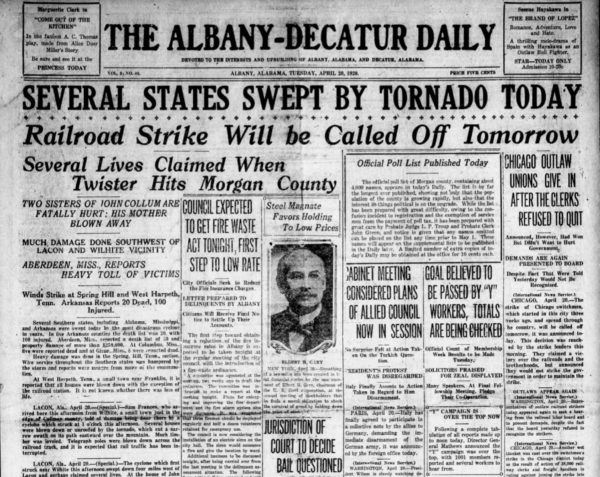 Alabama, Mississippi and Georgia was visited by a significant severe weather outbreak on Tuesday, April 20, 1920. It was one of the deadliest outbreaks in state history.
The unusual thing was that the tornadoes occurred early in the morning. This is something that we need to keep in mind when we think late night and early morning events might not be as strong because it is typically when instabilities are lowest.
The event actually started in Arkansas and Missouri after midnight as a flurry of tornadoes killed 19 people in Arkansas. There was a relative lull until after sunrise, when tornadoes began to strike northern Mississippi.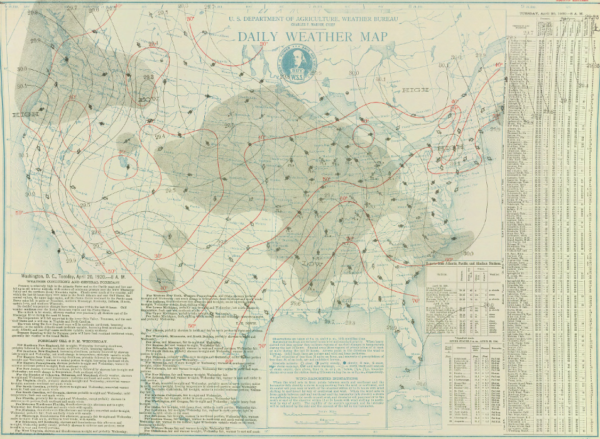 The culprit was a surface low that was just south of Memphis at 8 a.m. That low was causing backed surface winds over all of Alabama and eastern Mississippi. Those backed, or southeasterly surface winds, were probably causing tremendous low level helicity over northeastern Mississippi and northwestern Alabama, leading to the tornadoes. Thunder was being reported at Memphis, Nashville, Vicksburg and Birmingham. The temperature at Birmingham was 72F, and 70 degree readings extended up into Central Tennessee.
Early that morning, an F4 tornado cut a 60 mile path starting about 7 a.m. at Ingomar in Union County, Mississippi. A total of 24 people were killed. Five children were killed in one home at Glen in Alcorn County.
About an hour later, another F4 tornado touched town near Bradley in Oktibbeha County. It (or other tornadoes produced by the same storm) would remain on the ground 130 miles all the way across Marion, Franklin, Colbert and into Lawrence Counties in Alabama. Seven people died near Starkville and twenty two died on the west side of Aberdeen. A total of 20 people perished in Marion County, including nine at Bexar. Nineteen people died at Waco in Franklin County, including nine from one family. There were also four deaths in Colbert County and one in Lawrence County.
A total of 44 souls lost their lives with this killer in the state, making it the fourth deadliest tornado in Alabama history (behind the EF4 Tuscaloosa to Birmingham tornado and the EF5 Hackleburg-Phil Campbell tornado, both on April 27, 2011, and the F4 Marion to Jemison tornado on March 21, 1932).
About thirty minutes later, another F4 killed 27 in Neshoba County, Mississippi. At least nineteen people died at a lumber camp near New Deemer. There was no shelter available at the camp.
Just before 10 a.m., a violent tornado killed 36 people in and around Meridian, Mississippi. At 10 a.m., a tornado touched down in Fayette County southwest of Carbon Hill. It would kill 21 as it roared across Walker, Winston, Cullman and all the way into Morgan County. This violent tornado killed at least 19 people in the Arley-Helicon area of Winston County, with many homes swept completely away.
Around 12:30 p.m., another major tornado passed south and southeast of Huntsville in Madison County, killing 27.
It is interesting to note that another significant tornado struck East Central Alabama on March 28, 1920. The Deatsville-Agricola-West Point Tornado killed 17 people in Alabama and 26 along its 50 mile path from Elmore County into Georgia. That event was characterized by extremely warm temperatures for late March. The high that day was 77F at Montgomery and 76F at Auburn. This meant dewpoints were probably in the upper 60s.
Apparently, this same type of airmass was around for the April storms. Temperatures on the 20th started out in the lower 70s and rose into the middle 70s across much of North and Central Alabama, meaning dewpoints were likely in the upper 60s to near 70F. The high at Auburn that day was 87F! All this despite skies remaining cloudy most of the day.
The day must have had that tornado feel to it that you encounter with the worst outbreaks. An observer at Greenville in Butler County reported that "all day the wind was blowing a gale".
A total of 17 tornadoes struck the deep south that day, with six rated as F4, two rated as F3, and six rated as F2.
Category: ALL POSTS, Met 101/Weather History
Scott Martin is an operational meteorologist, professional graphic artist, musician, husband, and father. Not only is Scott a member of the National Weather Association, but he is also the Central Alabama Chapter of the NWA president. Scott is also the co-founder of Racecast Weather, which provides forecasts for many racing series across the USA. He also supplies forecasts for the BassMaster Elite Series events including the BassMaster Classic.