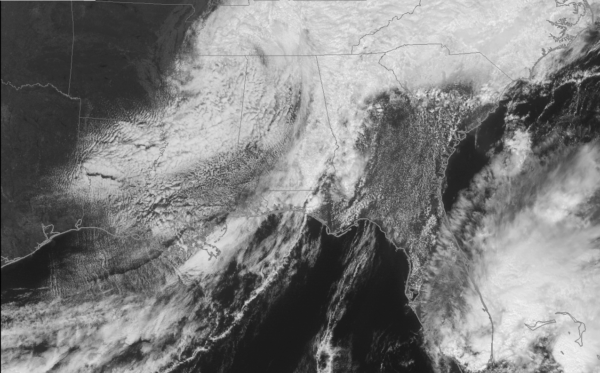 Clouds are thick across Alabama on this Sunday afternoon. Patches of drizzle and sprinkles are rotating into Central Alabama from eastern Mississippi. A wide swath of moderate rain and showers is pushing out of eastern Alabama. Rain is heavy over eastern Tennessee, where numerous counties are under flood warnings.
On the weather maps, the deep trough over the Mid South has closed off into a mid-level low. That usually is an entree to adverse weather, and so far that's the case with all the clouds and light rain.
The surface low is near Chattanooga. The cold front is pushing the showers into Georgia.
Across Alabama, temperatures are in the lower and middle 60s across Central Alabama with 50s across the North. Spots over North Alabama may indeed stay in the 50s all afternoon.
It will be a cooler night across the area tonight, with lows generally in the upper 40s to near 50F.
The light rain across the area may hang on until late this evening.
By tomorrow morning, the mid-level low should be near Atlanta. The surface low should be near Augusta. Parts of East Alabama may still be dealing with showers tomorrow, especially during the morning. Tomorrow's highs may be a little cloud challenged, particularly over eastern sections. Highs should be in the lower 70s.
Things will start warming up by Tuesday as a flat ridge of high pressure builds over Alabama and the Deep South. 80s will be common Tuesday through Friday.
Category: Alabama's Weather, ALL POSTS
Bill Murray is the President of The Weather Factory. He is the site's official weather historian and a weekend forecaster. He also anchors the site's severe weather coverage. Bill Murray is the proud holder of National Weather Association Digital Seal #0001
@wxhistorian