Check out this image from the WDAM-TV SKYCAM network in Hattiesburg: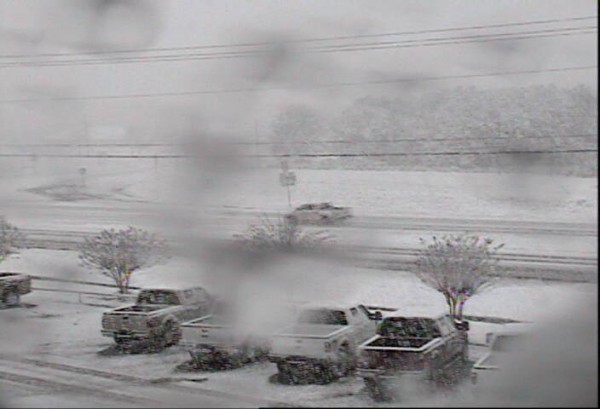 Other reports copied directly from the Jackson, MS NWS IM conference:
jan-fic-ec
Thanks David…would appreciate any follow ups on that
wapt_david
sleet with some snow mixed in right now in crystal springs
6:56 AMjan-fic-ec
Temperature down to 32 at Brookhaven…snow accumulating on roads with icy bridges.
Thanks David
wapt_david
Snow now reporting in Crystal Springs, so complete change over
7:07 AMwapt_david
Heavy snow reported in Crystal Springs, bridges and overpasses starting to freeze. Estimate 1/2″ snowfall on ground.
7:08 AMiembot
JAN: Crystal Springs [Copiah Co, MS] broadcast media reports SNOW of U0.0 INCH at 07:00 AM CST — there has now been a changeover to snow in the crystal springs area.
JAN: Brookhaven [Lincoln Co, MS] emergency mngr reports SNOW of U0.0 INCH at 07:00 AM CST — snow now accumulating on roads and bridges…with a temperature down to 32 degrees.
JAN issues Flood Warning for the Tuscolameta Creek at Walnut Grove [MS] till Dec 15, 3:49 AM CST
7:09 AMwapt_david
rain and snow at florence
7:11 AMjan-fic-ec
Thanks David…so close!
iembot
JAN: Mccall Creek [Franklin Co, MS] trained spotter reports SNOW of M0.8 INCH at 07:10 AM CST — a half an inch to an inch of snow has already fallen in eastern franklin county.
7:12 AM
newtonema has left this chat.
wdam-nickortego
Looking at our Skycam in Columbia, It appears to be sticking to the road there.
7:16 AMwdam-rex
Our webcams in Columbia, Hattiesburg, and Jones county are ALL showing HEAVY SNOW!!!!!!!!
Category: Uncategorized
James Spann is one of the most recognized and trusted television meteorologists in the industry. He holds the AMS CCM designation and television seals from the AMS and NWA. He is a past winner of the Broadcast Meteorologist of the Year from both professional organizations.