Not something you see very often, but a rare PDS (Particularly Dangerous Situation) Severe Thunderstorm Watch has been issued for portions of the Ohio and Tennessee Valleys. This is for a very high threat of severe storms capable of producing damaging winds and large hail. We may only see one or two of these issued each year across the country.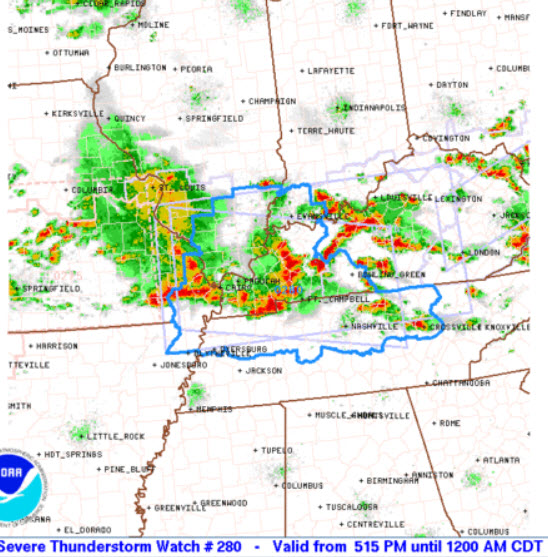 The NWS Storm Prediction Center has issued a
* Severe Thunderstorm Watch for portions of
Southern Illinois
Southwest Indiana
Western and south-central Kentucky
Far southeast Missouri
Western and middle Tennessee
* Effective this Saturday afternoon from 515 PM until Midnight
CDT.
THIS IS A PARTICULARLY DANGEROUS SITUATION…
* Primary threats include…
Widespread damaging winds expected with scattered significant
gusts to 80 mph likely
Scattered large hail and isolated very large hail events to 2
inches in diameter possible
A few tornadoes possible
SUMMARY…A very fast-moving line of convection will continue to
pose a risk for widespread wind damage as it races
east-southeastward through the evening hours. A few tornadoes and
hail will also be possible with the fast-moving squall line and/or
other line-preceding storms.
The severe thunderstorm watch area is approximately along and 70
statute miles north and south of a line from 30 miles west northwest
of Cape Girardeau MO to 55 miles east southeast of Bowling Green KY.
For a complete depiction of the watch see the associated watch
outline update (WOUS64 KWNS WOU0).
PRECAUTIONARY/PREPAREDNESS ACTIONS…
REMEMBER…A Severe Thunderstorm Watch means conditions are
favorable for severe thunderstorms in and close to the watch area.
Persons in these areas should be on the lookout for threatening
weather conditions and listen for later statements and possible
warnings. Severe thunderstorms can and occasionally do produce
tornadoes.
We will be watching these storms as they push south this evening and into tonight. We are likely going to see strong/severe storms move into Alabama around the midnight hour, and these will continue to push south. A reminder, northern portions of the state are under a risk of severe weather through 7AM Sunday morning, as we can see on the convective outlook below. These storms will be gradually weakening during the morning hours, but we are likely to see some warning across northern portions of Alabama after midnight.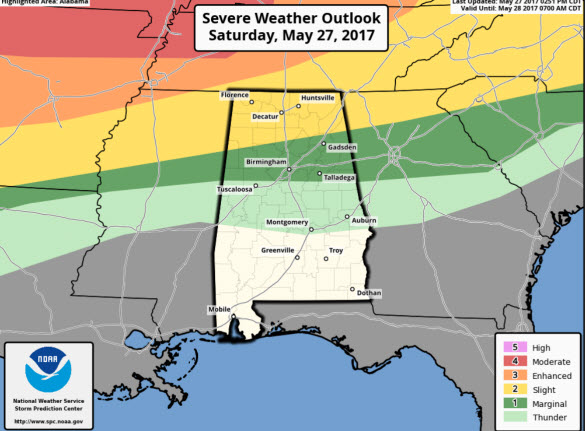 Category: Alabama's Weather, ALL POSTS, Severe Weather
Montgomery Television Meteorologist and long time Contributor on AlabamaWX. Stormchaser. I did not choose Weather, it chose Me. College Football Fanatic.
@Ryan_Stinnet