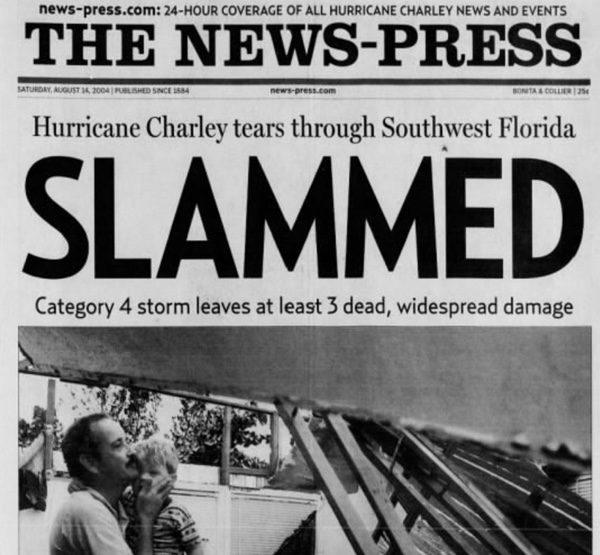 "We have met our Andrew," said Charlotte County Emergency Manager Wayne Sallade after Category Four Hurricane Charley made landfall near the towns of Punta Gorda and Port Charlotte on this date in 2004.
The hurricane made a beeline for the Southwest Florida coast after crossing Cuba the night before. The storm strengthened only slowly during the morning hours before intensifying rapidly in the three hours just before landfall, deepening from 965 millibars to 941 millibars. The hurricane began turning from a northerly course to a more north northeasterly one during the morning hours, drawing a bead on the Southwest Florida coastal area.
An Air Force Reserve Hurricane Hunter plane gave the only notice of the catastrophic intensification when it transmitted a report a 162 mph flight level wind to the National Hurricane Center. This allowed forecasters to upgrade the hurricane from Category 3 to Category 4 nearly two hours before it reached land. This gave a small window of precious time for last minute evacuations.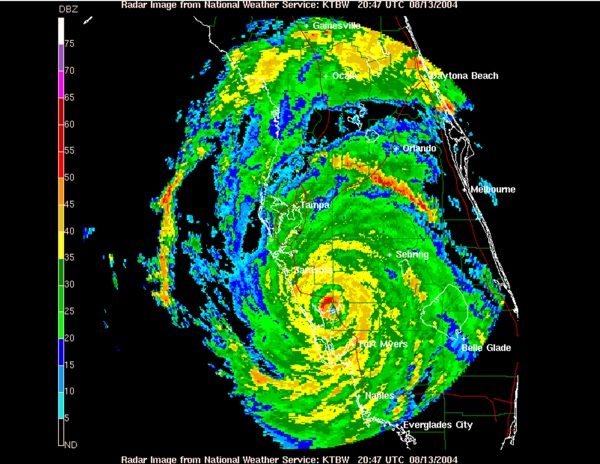 The hurricane's tight core made landfall near Charlotte Harbor, Florida with winds of 145 mph and a central pressure of 941 millibars. The retirement town of Punta Gorda, Florida was especially hard hit. Many residents who lived in several mobile home parks around the area ignored evacuation orders and were severely injured or killed. Twenty people died in the storm. Up to eighty percent of the buildings in Charlotte County were damaged.
Charley would cause extensive damage all the way across inland sections of the Florida Peninsula. A wind gust to 105 mph was measured in Orlando.
Charley was the strongest storm to affect Southwest Florida since Donna in 1960.
Comments
Powered by Facebook Comments
Category: ALL POSTS, Met 101/Weather History
Bill Murray is the President of The Weather Factory. He is the site's official weather historian and a weekend forecaster. He also anchors the site's severe weather coverage. Bill Murray is the proud holder of National Weather Association Digital Seal #0001
@wxhistorian