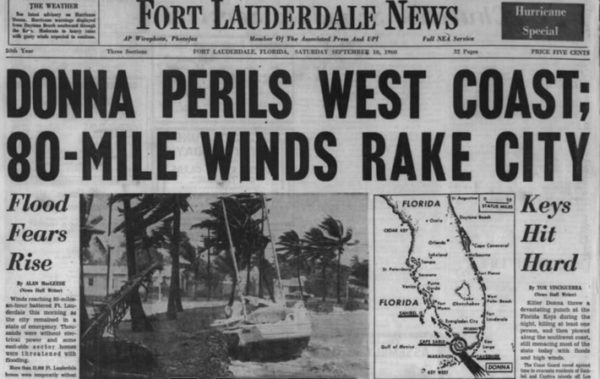 Today is the 57th anniversary of Hurricane Donna striking the Florida Keys, which has eerie similarities to Irma. Donna made four U.S. landfalls.
Donna was the strongest hurricane to strike the Keys since 1950 making landfall a category four hurricane. It now appears that Irma will be stronger when it strikes the Keys.
Donna passed 85 miles north of Puerto Rico and the moved along the northeastern coast f Cuba. It moved across the Middle Keys, passing just east of Marathon. Winds were 140 mph with gusts to 185 mph. The pressure was 930 millibars.
The anemometer at Tavernier was pegged at its maximum of 120 mph for 45 minutes.
The storm would recurve to the northeast over Florida Bay and make landfall again near Naples and Fort Myers. Winds were 105 mph with gusts to 150 mph. The pressure at Fort Myers dropped to 950 millibars.
The storm surge in the Florida Keys was as high as 13 feet, causing near total devastation with the combination of wind and water. Tides were 8-12 feet 40 miles to the east and 20 miles west of the center.
The surge at Naples was 11 feet and 4-7 feet in Fort Myers.
These are similar values to what we may see in Irma.
Donna killed 12 and injured 1,794 in the Keys as 75% of the buildings between Marathon and Taverner were damaged.
Comments
Powered by Facebook Comments
Category: ALL POSTS, Met 101/Weather History
Bill Murray is the President of The Weather Factory. He is the site's official weather historian and a weekend forecaster. He also anchors the site's severe weather coverage. Bill Murray is the proud holder of National Weather Association Digital Seal #0001
@wxhistorian