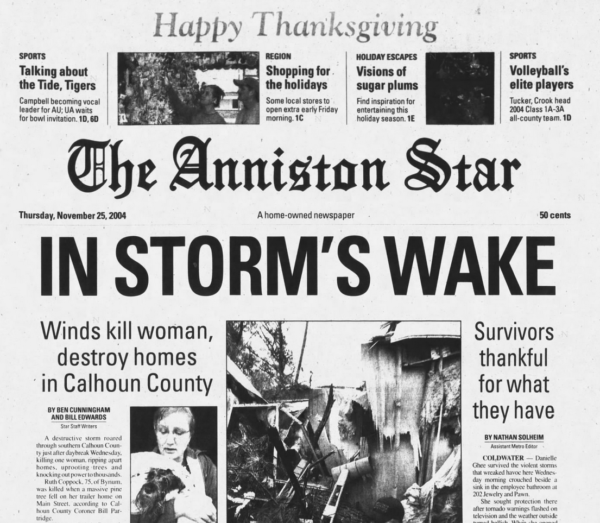 An unusually moist and warm air mass combined with a strong storm system brought severe weather to Alabama during a two-day period starting on the afternoon hours of November 23rd, 2004, and lasting through the 24th, the day before Thanksgiving.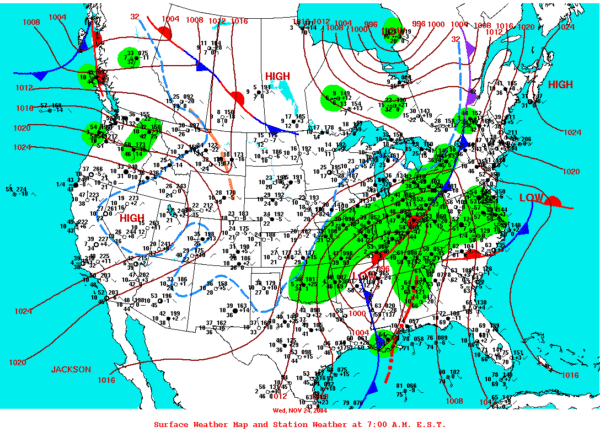 After this intense storm system had spawned 54 tornadoes over the two-day period from the 22nd to the 23rd back to the west, the severe weather continued in a destructive and deadly way as it made its way into the state. A grand total of 16 tornadoes were confirmed by the National Weather Service assessment teams. One person was killed and another five were injured throughout the event, and damage estimates were near $3.5 million.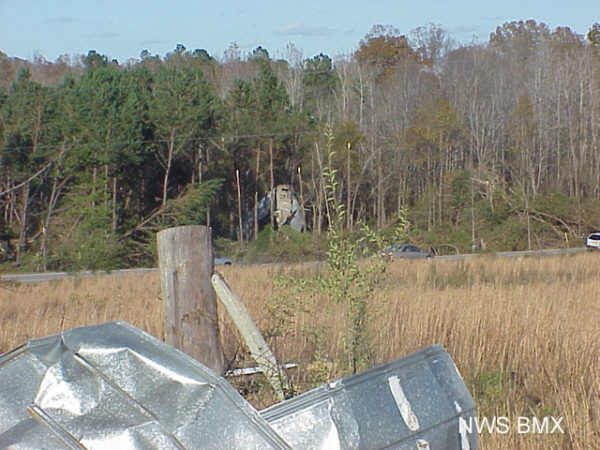 The first tornado touched down just southeast of the community of Detroit in northern Lamar County at approximately 9:38 PM CST and headed on a 13.9-mile path of damage to the northeast before lifting to the southeast of Hamilton in Marion County. Several homes were damaged, with a few of those left uninhabitable. Numerous outbuildings were damaged or destroyed, along with three large grain silos. One of those silos was deposited over 200 yards away from where it stood. This tornado was rated an F1 and grew to a width of 250 yards at its widest point.
There were no more tornadoes through the remainder of the 23rd, but several more touched down starting during the predawn hours on the 24th, with one of those rated as an F2 that affected the Thomaston area in Marengo County. It touched down at approximately 4:31 AM just to the north of the Shiloh Community and stayed on the ground for 11.9 miles, growing to 200 yards wide at its widest point along the damage path. Numerous trees and power lines were downed, along with damage to several homes and mobile homes. Two people suffered injuries, but no deaths were reported. The twister lifted just after it crossed Chickasaw Bogue just southeast of Thomaston.
The next significant tornado touched down at approximately 6:24 AM just to the southwest of Autaugaville and carved a path of damage for 9.7 miles and grew to a width of 500 yards at its widest point. As it moved northeast, several mobile homes, boats, and travel campers were destroyed at Clark's Landing. Before approaching the Forester Community, the twister took down two high voltage power line towers. In Forester, several structures were damaged or destroyed. The tornado was on the ground for 13 minutes before lifting shortly after crossing Autauga County Road 13 just west of Prattville. No injuries or deaths were reported with this tornado.
The next strong tornado would touch down at approximately 7:09 AM on the property of Talladega Superspeedway, damaging concession stands, the Busch Series (now Xfinity Series) garage area, and destroying a digital leaderboard. Debris was strewn all throughout the infield and into Victory Lane before the tornado moved northeastward. Unfortunately, this F2 tornado would be the one that would cause the only death in the state of Alabama throughout the event. A few houses and outbuildings were damaged in the Eastaboga area before it moved into Bynum. Two mobile homes were heavily damaged by fallen trees, with one of those trees killing a 75-year-old woman. It continued into the Coldwater area and into the southwestern part of Anniston, damaging more buildings and knocking down numerous trees.
The last tornado of the event for Alabama was a weak F0 that touched down in Lee County near Opelika at approximately 8:09 AM and stayed on the ground for 0.2 miles. The damage path was only 30 yards at its widest point, with a few structures receiving minor damage along with a few trees and power lines being knocked down.
Overall, this pre-Thanksgiving storm system spawned 104 tornadoes total, from Texas through the southeast to Florida and South Carolina, and even producing a few weaker tornadoes up in Indiana. A grand total of four people died and another 39 were injured throughout the event and causing over $30 million in damages.
As you can see, we have plenty to be thankful for on this Thanksgiving Day in 2017. While it is beautiful and cool this year, we are in the prime part of our Fall Severe Weather Season.
Category: ALL POSTS, Met 101/Weather History
Scott Martin is an operational meteorologist, professional graphic artist, musician, husband, and father. Not only is Scott a member of the National Weather Association, but he is also the Central Alabama Chapter of the NWA president. Scott is also the co-founder of Racecast Weather, which provides forecasts for many racing series across the USA. He also supplies forecasts for the BassMaster Elite Series events including the BassMaster Classic.