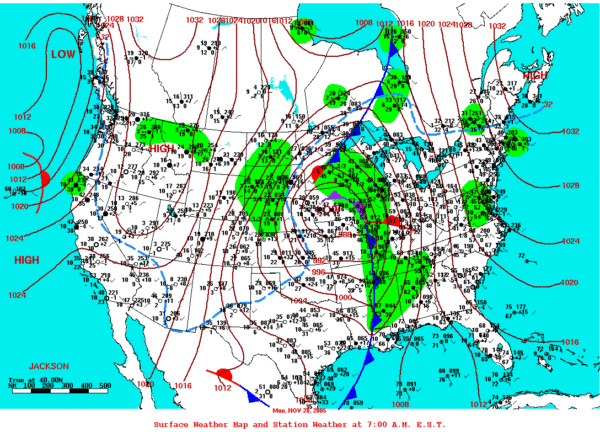 Monday, November 28th, 2005, turned out to be a relatively stormy day across Central Alabama, as a grand total of six tornadoes touched down, along with damaging winds, and large hail. A moist and unstable airmass advected into the area out ahead of a negative-tilted trough with an associated strong cold front. All of these ingredients combined to make the 28th an active weather day.
The first tornado of the event touched down at approximately 2:10 PM on County Road 8 in the Bagley community in Jefferson County. This F0 tornado was only on the ground for a minute and for a distance of 1/10th of a mile. On its short path of damage, a few trees were blown down and one residence sustained roof damage and the front porch was destroyed. Before lifting, Another building sustained minor damage while a large fifth-wheel trailers weighing approximately 3,000 lbs. was moved over 20 feet.
Just a short 30 minutes later from the first tornado, another F0-rated twister briefly touched down in the southwestern part of Concord in Jefferson County. Along with its 4/10th-mile damage path, several trees and large limbs were blown down, along with several sheds being overturned, and a few homes receiving some roof damage. The damage path was 75 yards wide at its widest point and was only down for one minute.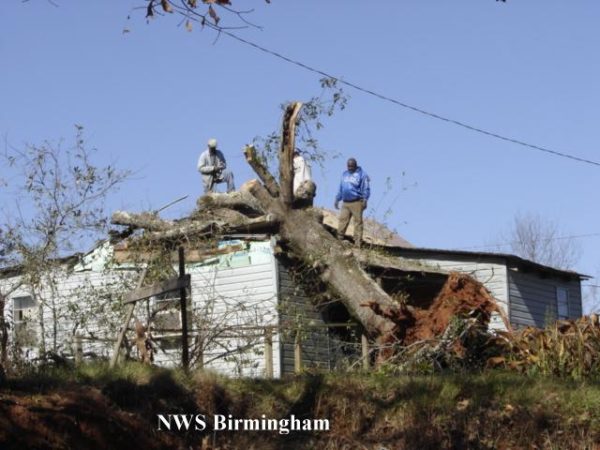 The third tornado touched down at approximately 4:53 PM just to the northwest of Summerville in Dallas County. This F0-rated tornado stayed on the ground for approximately 5.8 miles (the longest damage path for the day) and was 50 yards wide at its widest point. Numerous trees were either snapped off or uprooted, and a few homes and mobile homes received some shingle damage. A large tree fell on a house causing significant damage, and several sheds or outbuildings sustained moderate damage. After being on the ground for nine minutes, the tornado lifted just south of Paul M. Grist State Park.
The next tornado didn't make its appearance until nearly two hours later, as this F0-rated twister touched down a few miles west of Autaugaville near the intersection of County Roads 45 and 78. It crossed over State Highway 14, County Road 19, and County Road 165 on its 5.4-mile long damage path, which reached 150 yards wind at its widest point. Damage included an attached garage being blown away from a mobile home, vinyl siding was peeled away from another home along with its fence being blown down, and a shed was completely destroyed. A steel building had parts of its tin peeled away as well. After its 10-minute trip, the tornado lifted just east of Whitewater.
Another F0-rated twister made a brief touchdown in a wooded area near Weoka in Elmore County, causing a few trees to be snapped off along its 1/10th-mile damage path. It was on the ground for less than one minute.
The final tornado of the event ended up being the strongest-rated at F1, as it touched down very close to Weoka Creek in southern Coosa County. On its short 4/10th-mile damage path, only one home sustained roof damage and a pool shed was destroyed, along with several pine trees being snapped off. The damage path was 150 yards wide at its widest point and only lasted for a little over one minute in duration.
The good news is that there were no reported injuries or deaths with this system, but estimated damages total up to $150,000. Another reason why we can be very thankful for calm weather at this time because it can be very active in our Fall Severe Weather Season.
Comments
Powered by Facebook Comments
Category: ALL POSTS, Met 101/Weather History
Scott Martin is a meteorologist, graphic artist, musician, husband, and a father. Scott is a member of the National Weather Association and the Central Alabama Chapter of the National Weather Association. Scott is also the co-founder of Racecast Weather, which provides accurate forecasts for many racing series across the USA.