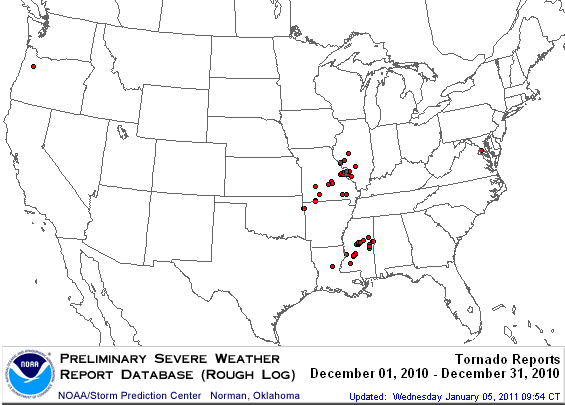 December 2010 was a very active month for severe weather across the country, with a total of 59 tornadoes touching down throughout the month. 53 of those occurred on New Year's Eve as a strong storm system swept through the central part of the nation, bringing snow to the Northern Plains and severe weather to the Mississippi River Valley. The total tornado count for the month ranks fourth for the most tornadoes in December since those records began in 1950 (behind 2002, 1982, & 1967).
A rare tornado struck the town of Aumsville, Oregon, on December 14, with estimated winds of 110-120 MPH, making it an EF-2. On its 5-mile long damage path, 50 structures were damaged along with injuring two people. At that time, it was the first tornado to strike the state in just over a full year, and only the fourth tornado in Oregon since the year 2000.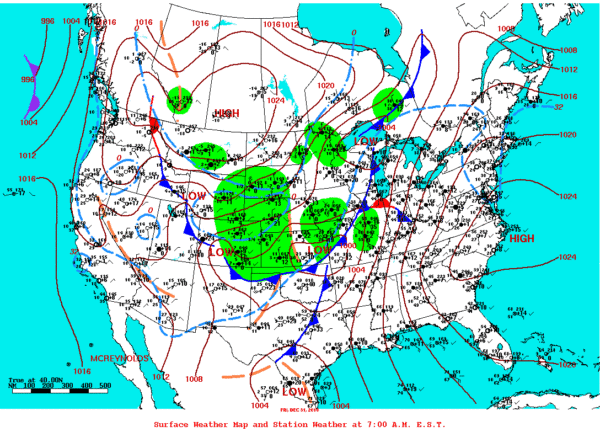 New Year's Eve of 2010 turned out to be a destructive and deadly day throughout the Mississippi River Valley, as 53 tornadoes ripped through the states of Arkansas, Missouri, Illinois, Louisiana, and Mississippi. Four people were killed in Arkansas, and another four killed in Missouri. Three of the tornadoes were EF-3 monsters: one near Macon, MS.; one near Sunset Hills, MO; and one near Cincinnati, AR.
A tornado outbreak of this magnitude is very uncommon during the month of December, as the monthly average tornado count from 1980-2009 was 23. This turned out to be the largest single-day tornado outbreak for the month of December, blowing away the previous record of 34 tornadoes set back on December 18, 2002.
We can be very thankful that the only bad weather that we've had this fall so far has been some snow. As you can see from history, the fall severe weather season can be very active.
Info from the NOAA National Centers for Environmental Information (www.ncdc.noaa.gov).
Category: ALL POSTS, Met 101/Weather History
Scott Martin is a meteorologist, graphic artist, musician, husband, and a father. Scott is a member of the National Weather Association and the Central Alabama Chapter of the National Weather Association. Scott is also the co-founder of Racecast Weather, which provides accurate forecasts for many racing series across the USA.