A cold Arctic airmass has invaded the eastern half of the United States and the chill will hang around for the next several days.
You can blame the upper-level wind pattern. A strong trough delivered the initial cold in time for the weekend, and has since flattened a bit. But the ridge will build in the west over the next few days and the trough will strengthen over the East as we go through the next two weeks.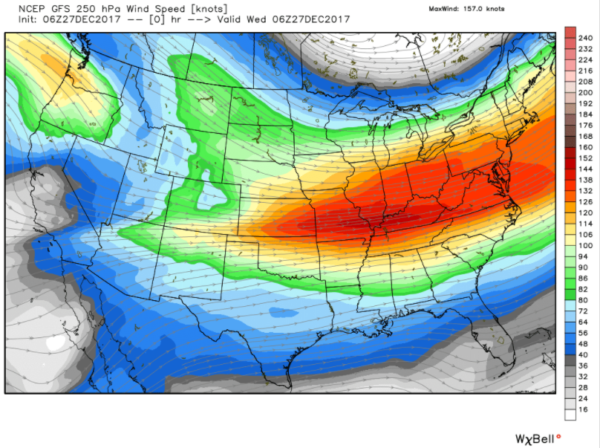 It's cold across much of the country this morning, with readings well below zero across the northern Rockies, Northern Plains, Upper Midwest and into the Great Lakes states. Temperatures across northern Minnesota are running 35 degrees below normal. It is -24F at this hour in International Falls, MN.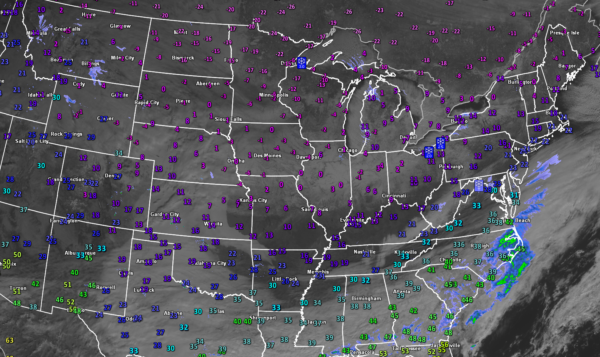 Wind chill advisories, shown in light blue, cover a wide area from eastern Montana to the Chicagoland area.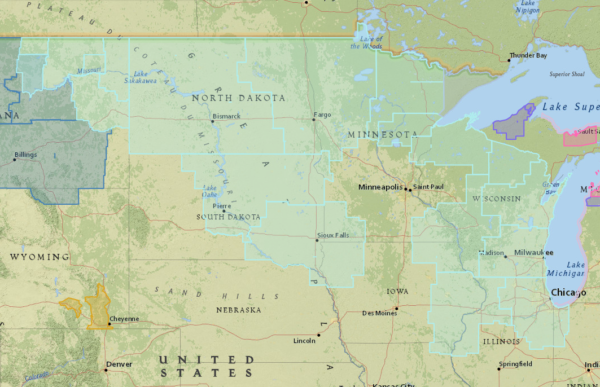 WIndchill values are running in the -40F to -45F range across northern North Dakota and northern Minnesota.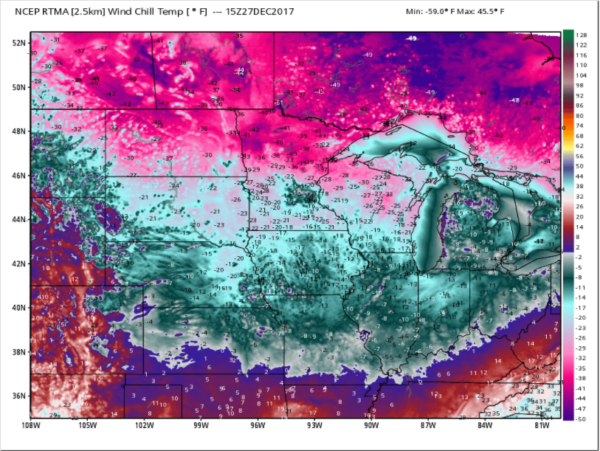 The extreme cold will shift to the Northeast on Thursday, with highs remaining below zero across northern New York, New Hampshire, Vermont and western Maine.
A new surge of cold air will start to build into the U.S. on Friday. By Saturday, highs will be below zero across a wide area from Montana to Wisconsin down into Iowa. Highs may not get above freezing over Northwest Alabama on Sunday and over much of the northern half of the state on Monday.
Our temperatures over the next 10 days according to the GFS: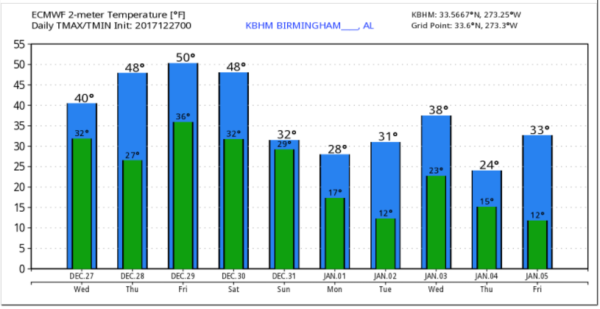 If it is right, much of North Central Alabama could struggle to get above freezing Sunday through Tuesday, with an even colder surge late next week, keeping highs in the 20s on Thursday, January 4th.
With all this cold air, you start to worry about incursions of Gulf moisture. The GFS has been consistently painting a picture of a wintry mix across the Southeast for Sunday and Monday. Here is the latest GFS data, hot off the press for Sunday morning: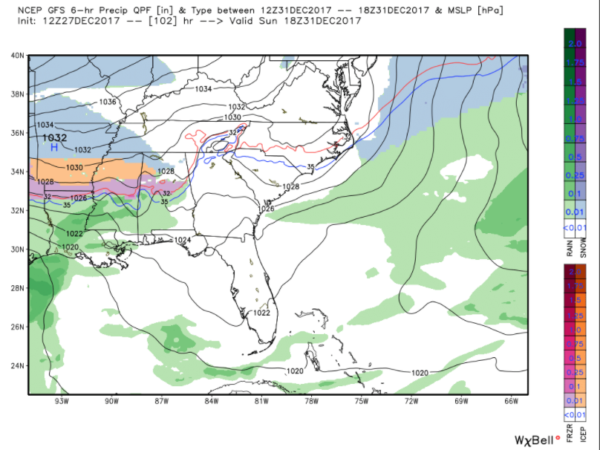 It shows a wintry mix of freezing rain, sleet and snow across much of the northern half of Alabama. With temperatures in the upper 20s and lower 30s, travel problems could develop. Alabama fans traveling to New Orleans for the Sugar Bowl could encounter problems on I-59 and I-65 as they head toward the Big Easy. Auburn fans could have issues as well. Significant accumulations of freezing rain (>0.10 inches of ice) could affect areas all along I-59 in western Alabama and eastern Mississippi as well as along I-65 in Southwest Alabama.
Light snow could accumulate between a dusting and 2 inches across parts of the northern half of Alabama.
Here is the GFS' snow depth prediction for early Monday afternoon. This obviously could cause some problems for travel to the Peach Bowl and Sugar Bowl. It will be a rainy New Year's Eve in New Orleans, but they should avoid ice.
As I mentioned earlier, another surge of cold air will spill into Alabama on Thursday the 4th.
Then, way out in Voodoo Territory, look at what the GFS has cooked up for Monday the 8th: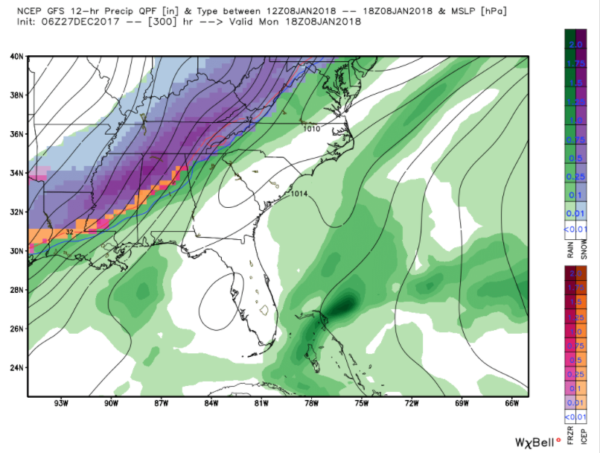 That's a wintry mix changing over to snow with widespread 1-4 inch snowfall amounts for areas along and northwest of I-59.
Lots of uncertainty and lots of time to watch it.
Comments
Powered by Facebook Comments
Category: ALL POSTS, Winter Weather
Bill Murray is the President of The Weather Factory. He is the site's official weather historian and a weekend forecaster. He also anchors the site's severe weather coverage. Bill Murray is the proud holder of National Weather Association Digital Seal #0001
@wxhistorian