Our current forecast is on track this morning as surface temperatures near freezing over Northeast Alabama have resulted in a solid glaze of ice across parts of eastern Madison (around Monte Sano), Jackson, DeKalb and Cherokee Counties into northwestern Georgia.
There is a major 35 car accident on I-75 in northwestern Georgia south of Chattanooga, where the road surface is reported to be a sheet of ice.
There is some light freezing rain in colder parts of Blount, St. Clair and Etowah counties, extending into Calhoun, Cleburne, Clay and Randolph counties. There are minor accumulations of ice on bridges near Oneonta and along highway 278.
The only reports of road icing so far have been across Northeast Alabama. Vic Bell reports Hwy 68 Between Collinsville & Leesburg is closed. Cherokee County EMA reports icy conditions on County Road 75 & County Road 41 in the Cedar Bluff/Gaylesville area. They also report multiple icy areas along Highway 68 from sand rock Church of Christ to the DeKalb county line. County road 82 is a solid sheet of ice from 273 to CR 75. The road is being treated. Cherokee County schools are now closed today.
Accidents being reported in Fort Payne. Highway 68 between Collinsville in DeKalb and Leesville in Cherokee County is reportedly closed.
Freezing rain is coating exposed objects in Rainsville in DeKalb County and Ashland in Clay County.
Elsewhere, here is just a cold rain across North and Central Alabama with temperatures in the middle to upper 30s. Temperatures will warm during the morning and icing conditions in east Alabama should improve by 10 a.m.
So far, things have been dry along I-20 in western Georgia, a road that will be heavily traveled for this evening's big game between Alabama and Georgia. But precipitation is moving in from the southwest with temperatures in the 30-36F range from the Alabama border to Atlanta. Icing on bridges may still occur through the morning hours until temperatures edge above freezing. Atlanta area interstates have been pretreated with brine.
Winter weather advisories from NWS offices in Birmingham, Huntsville and Atlanta are depicted here: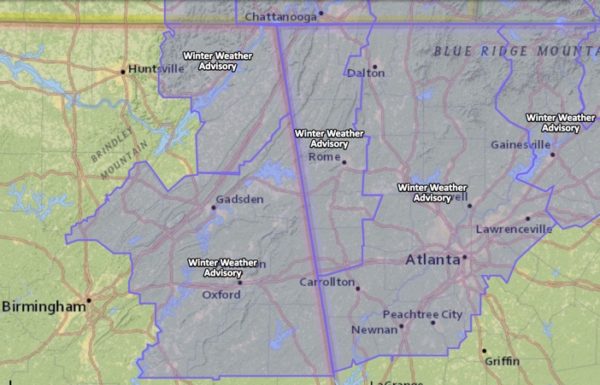 If you have to travel in the advisory area, check conditions before venturing out.
Comments
Powered by Facebook Comments
Category: ALL POSTS, Winter Weather
Bill Murray is the President of The Weather Factory. He is the site's official weather historian and a weekend forecaster. He also anchors the site's severe weather coverage. Bill Murray is the proud holder of National Weather Association Digital Seal #0001
@wxhistorian