The National Weather Service in Birmingham sent a survey team to Chilton County today to inspect damage that occurred early this morning as a strong storm passed through the county. They have reported that the damage is consistent with an upper-end EF0 tornado. The full report will be released later tonight.
At 6:18 a.m., we received the first reports of damage from Jemison, including multiple 911 calls as reported by @ace123michael.
Wild ride this morning. Just glad no injuries pic.twitter.com/xLQl9WPmWR

— Michael Ray (@ace123michael) February 7, 2018
Radar data did indicate that there was evidence of rotation as the line moved through Jemison.
Here is the radar data from the NWS BMX. The top left pane is base reflectivity, the top right storm relative velocity, the bottom left correlation coefficient and the bottom right is normalized rotation. Base reflectivity is just precipitation echoes. Storm relative velocity is base Doppler velocity data with the average storm motion subtracted out, which makes it easier to spot the velocity couplet. We look for rotation based on that. Correlation coefficient can show us debris lofted into the air. Look for areas of blue to see low CC values which could indicate debris. The bottom right panel, or normalized rotation. Values over 1 show up in greens and yellows and can indicate a tornado.
Here is the radar scan from BMX at 5:59 a.m. (Click radar images to expand them.)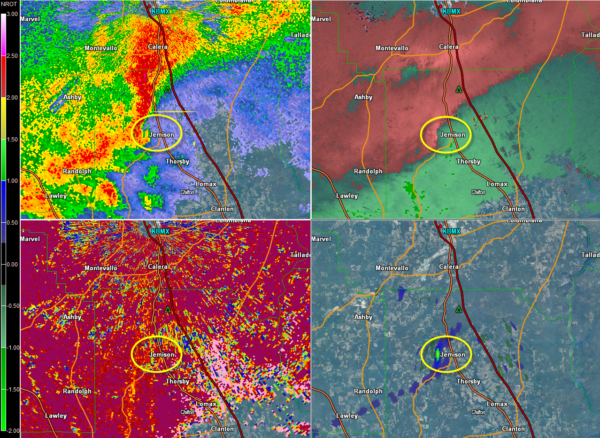 Reflectivity shows a small hook echo west of Jemison in the base reflectivity and a kink in the velocity data. There doesn't appear to be debris, but the NROT value is over 1.5
Here is the radar scan at 6:05 a.m.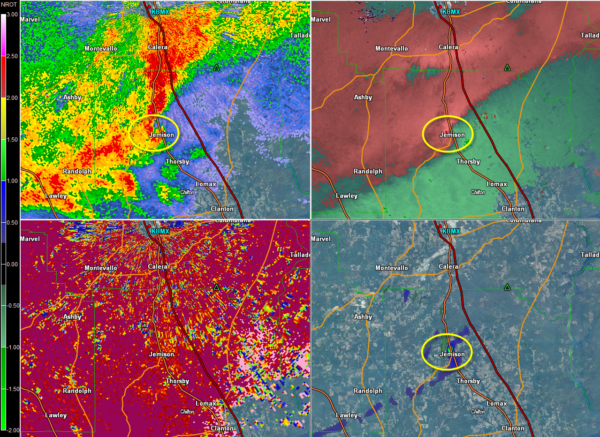 Reflectivity shows the hook becoming better defined, a velocity couplet moving into Jemison and the maximum NROT values right over the community. There could be a little debris signature there, but it is subtle.
By 6:17 a.m., the storm is approaching I-65 in northeastern Chilton County, but the tornado appears to have lifted as fast as it touched down.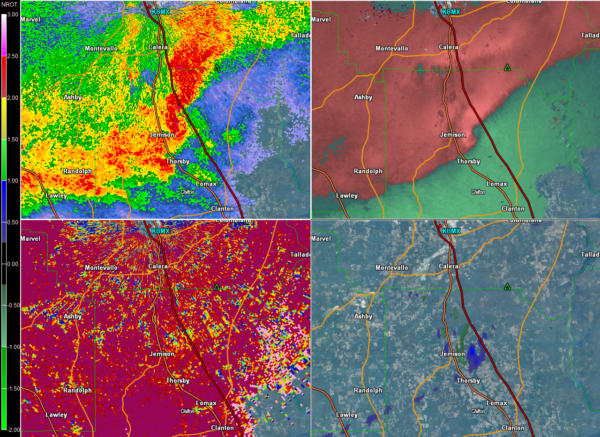 Several damage reports were called in, including damage to at least two structures at the intersection of Church Street and 25th Street, with multiple trees downed in the surrounding area. Debris was reported strewn in the roadway very close to the intersection of Alabama Highway 191 and US Highway 31. A large tree was knocked down on the CSX line between Patton Street and County road 42, making that line completely impassable until the tree was removed.
There was no tornado warning in effect for this small spin-up tornado. A Significant Weather Advisory was issued at 5:52 AM by NWS Birmingham for northeastern Chilton, Southern Shelby, and southeastern Bibb counties, and expired at 6:30 AM. It is virtually impossible to catch every spin up in a situation like this one.
Just another reminder of what we always say, when it comes to thunderstorms in Alabama, expect the unexpected.
Category: Alabama's Weather, ALL POSTS
Scott Martin is a meteorologist, graphic artist, musician, husband, and a father. Scott is a member of the National Weather Association and the Central Alabama Chapter of the National Weather Association. Scott is also the co-founder of Racecast Weather, which provides accurate forecasts for many racing series across the USA.