From NWS Birmingham…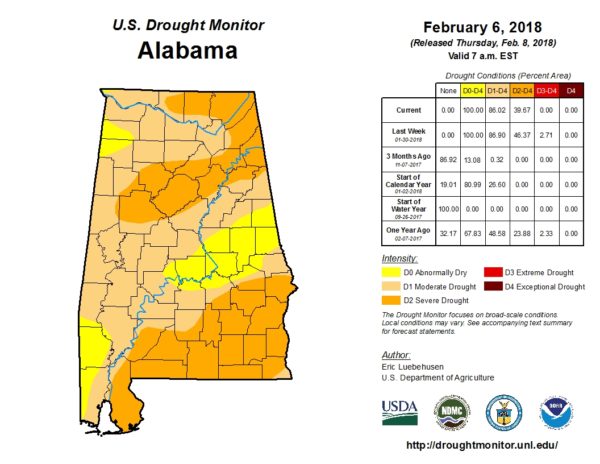 Synopsis… The latest U.S. Drought Monitor indicates that drought conditions have improved significantly in Central Alabama. Extreme Drought is no longer indicated in Central Alabama. Severe Drought now extends from Tuscaloosa and southeast Fayette Counties east-northeast to Cherokee, Etowah and northern Calhoun Counties, and in the southeast sections from southern Montgomery, southern Macon and Russell Counties southward. Elsewhere, Moderate Drought is found across most of Central Alabama except for northwest Marion County… and from eastern Dallas and northern Lowndes Counties east-northeast to southern Randolph and Chambers Counties which are indicated to be Abnormally Dry.
Climate Summary… Cold fronts brought significant rainfall to the area Tuesday night and Wednesday, and also over the weekend, providing some needed relief to the drought conditions in Central Alabama. As a result, most locations have returned to near normal rainfall for the year. Cumulative rainfall during the past week averaged three to five inches over much of Central Alabama, although totals of one to three inches were more prevalent in the extreme southeast sections. This has significantly improved the drought conditions over much of Central Alabama at least temporarily.
Actual precipitation amounts and average precipitation amounts for Jan. 1st – Feb. 7th
Birmingham… 5.44 in (2018 total)… 5.96 in (normal)… -0.52 in (departure)
Montgomery… 6.62 in (2018 total)… 5.97 in (normal)… +0.65 in (departure)
Anniston… 5.95 in (2018 total)… 5.75 in (normal)… +0.20 in (departure)
Tuscaloosa… 6.94 in (2018 total)… 6.62 in (normal)… +0.32 in (departure)
Calera… 6.69 in (2018 total)… 6.77 in (normal)… -0.08 in (departure)
Troy… 1.95 in (2018 total)… 5.63 in (normal)… -3.68 in (departure)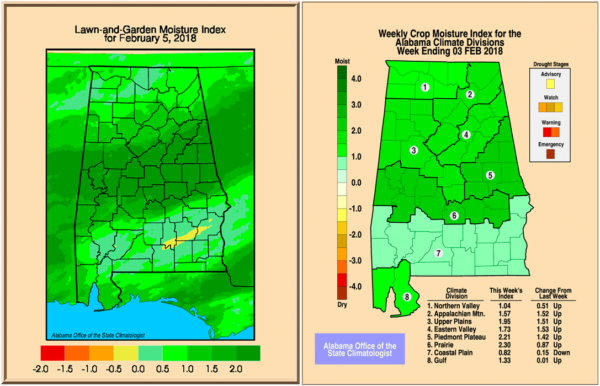 Hydrologic Impacts… Soil moisture values in general have improved and are now running in the 30 to 70 percentile bracket over most of the area…although values in the extreme southern sections are still in the 20 to 30 percentile range. Periodic rainfall will be needed to return or keep soil moisture values at their normal levels.
Agricultural Impacts… There are not any known widespread agricultural problems at this time due to the current drought conditions. However if the current drought conditions persist or worsen agricultural concerns could arise as we head through the winter and spring seasons.
Hydrologic Summary and Outlook… The latest USGS stream gauge data indicates that stream flows are currently running above normal across much of Central Alabama following the recent heavy rainfall. Periodic rainfall will be needed for stream flows to remain near normal or above normal levels as we continue through the winter season into spring. Most of the major reservoir pool levels are near their winter pool levels and have remained fairly steady or risen slightly during the past week. A few reservoirs have been raised a little above their normal winter pool levels by operators to facilitate filling them this spring should the drought persist or worsen.
Precipitation & Temperature Outlook… A high pressure system over the area is bringing dry weather to the area today, and this should continue into Friday. However, the dry weather pattern will be short-lived as a moist southwesterly flow pattern is forecast to develop by Saturday and persist into the first half of next week. This will allow for an unsettled weather pattern with periodic bouts of rainfall across the area from Saturday into mid week next week. At this time cumulative rainfall totals of two to four inches appear likely across much of Central Alabama by next Thursday.
The Two Week Outlook (Feb. 13th – 21st): Above normal temperatures and above normal precipitation chances transitioning to below normal chances.
The Longer-Range Outlook (Feb. 22nd – April): Above normal temperatures transitioning to below normal and above normal precipitation chances transitioning to below normal chances.
Seasonal Drought Outlook (through April): Drought conditions are expected to persist across much of Central Alabama.
Scott Martin is an operational meteorologist, professional graphic artist, musician, husband, and father. Not only is Scott a member of the National Weather Association, but he is also the Central Alabama Chapter of the NWA president. Scott is also the co-founder of Racecast Weather, which provides forecasts for many racing series across the USA. He also supplies forecasts for the BassMaster Elite Series events including the BassMaster Classic.