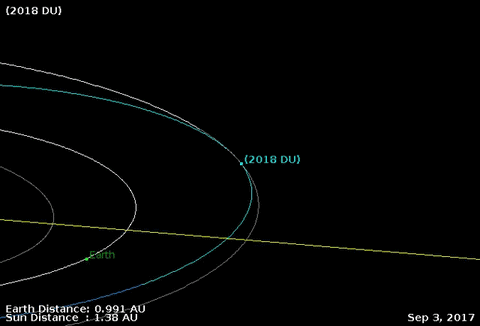 Yesterday afternoon, Feb 25, asteroid 2018 DU, passed inside the orbit of the Moon, coming within 177,000 miles of Earth.  It was discovered the previous Friday. You probably didn't hear about it though, and that's okay.  This happens pretty regularly.  In fact, 2018 DU  is the 17th asteroid to pass Earth within a lunar distance this year and the 8th this month.
NASA's Center for Near-Earth Object Studies at the Jet Propulsion Laboratory in Pasadena, California tracks near earth objects like this one.  And the criteria for tracking is very conservative. Their database is filled with asteroids and comets that come within 1.3 astronomical units.
An astronomical unit is an average distance between the Earth and sun, and 1.3 of them works out to more than 121 million miles.The ones that are cause for concern make the Potentially Hazardous Object list.
PHOs cross Earth's orbit within 0.05 AU but must also be of sufficient size, about the size of your local high school's football stadium, to pose a threat. We can sleep tight for now though.
Currently, the greatest risk in the database comes from an asteroid discovered in 2009 having a 5% chance of impact somewhere after 2095.
Elsewhere in the sky, look for the night sky's brightest star, Sirius beginning after evening twilight in the south. If you've got a pair of binoculars, look just 4 degrees south for the star cluster M41.
Category: ALL POSTS, Spacey Stuff
Tony Rice is a NASA/JPL Solar System Ambassador and the voice and brains behinds the weekly Astronomy Report on the WeatherBrains podcast. He grew up in Southern California where he watched the Space Shuttles being build and landed nearby and was hooked. Tony brings weather and space together to communicate the excitement of space exploration and promote a greater appreciation for Earth sciences.