The crew at the National Weather Service in Birmingham has made dramatic strides over the past five years in leveraging science in their warning decision process to reduce false alarms. The results have been dramatic.
Under the leadership of Science and Operations Officer (SOO) Kevin Laws, the forecasters at BMX have been used data from past events to help them decide when to pull the trigger on a warning in a marginal event.
He sent all of the media partners a note this morning talking about some important topics. I asked him if I could share it with you. He said yes. Here is his note:
All,
A few quick points about yesterday.
1) Probably about as close as you want to get in terms of applying the proper analysis to what is happening in the real world. I have become very leery as of late when it comes to SPC's mesoanalysis page. I don't know if something has changed, but it has struggled mightily over the past several events in our area. I was out of pocket yesterday afternoon, so I don't know if that statement applies to yesterday. Ex. The previous event (early Sunday morning squall line) had around ~100 Joules of CAPE ahead of the line – meanwhile, we launched a balloon at 430am ahead of the line which showed ~800 Joules. Obviously, that is a significant difference. Same thing applied to the event previous to that one (Jemison tornado). I will continue to watch this disturbing trend since we rely heavily on the data to make warning decisions.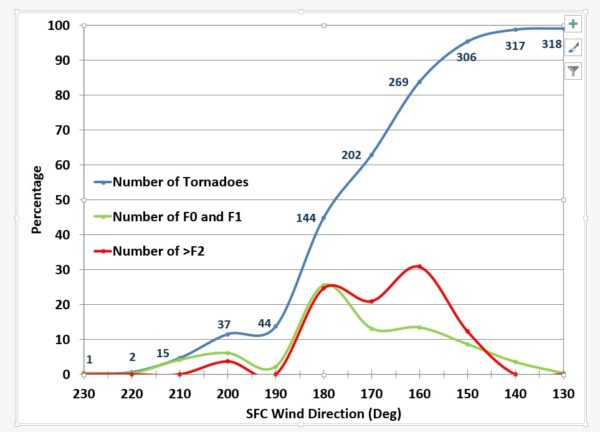 2) Yesterday's event probably came down to one thing, the shear and in particular the shear vectors. Most of the low level vectors were veered around to the southwest, and while you can obviously get rather robust mesocyclones in that particular environment, it is difficult to maintain that down to the ground level. I tend to think of it as the RFD's are out of balance as they try and sweep along the southern periphery of the parent storm. Looking at radar, it is fairly easy to pick that out (see image one). Note how the hook(s) of the storm is oriented. See image 2, while a majority of our tornadoes occur with backed winds, it is not unheard of that we also get them with winds >180 degrees.
3) While point 2 is valid, you have to use it in the proper context. Can you get tornadoes with southwest surface winds? Absolutely you can. In fact, we will have to investigate the damage east of Jasper later today – and obviously many of the videos showing the various wall and funnel clouds were very close to touching down. A few things to consider would be the local shear effects (could you get local wind maximum from a more backed region that escapes the mesoanalysis?), lower cloud bases (it is much easier to get a very low cloud bases to stretch downward), and storm motion is a big one in these types of environments (the more the supercells tend to deviate or right-turn, the shear angle increases and storm relative inflow becomes much more favorable for tornadogenesis).
With that said, I believe the forecasters made good warning decisions yesterday by applying the proper analysis to the situation. In years past, we possibly would have issued many tornado warnings to cover these storms, with very little to show for it, proving once again that applying the meteorology within the context of the radar analysis can yield good results.
Please let me know if anyone saw it differently or have any additional thoughts!
Kevin
Category: ALL POSTS, Met 101/Weather History
Bill Murray is the President of The Weather Factory. He is the site's official weather historian and a weekend forecaster. He also anchors the site's severe weather coverage. Bill Murray is the proud holder of National Weather Association Digital Seal #0001
@wxhistorian