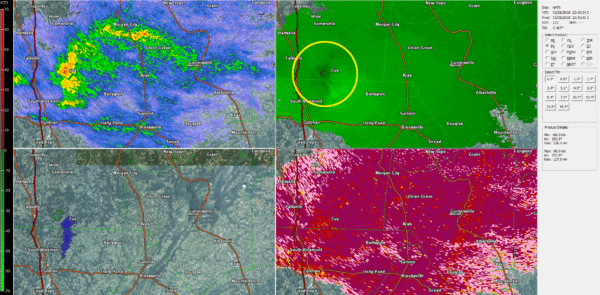 PUBLIC INFORMATION STATEMENT
NATIONAL WEATHER SERVICE HUNTSVILLE AL
307 PM CST Thu Mar 1 2018
…Public Information Statement…
…NWS Damage Survey For 02/28/18 Tornado Event…
.Northeast Cullman Tornado…
Rating: EF0
Estimated Peak Wind: 75 mph
Path Length /statute/: 1.34 miles
Path Width /maximum/: 100 yards
Fatalities: 0
Injuries: 0
Start Date: 02/28/2018
Start Time: 04:46 PM CST
Start Location: 3 SE Eva / Cullman County / AL
Start Lat/Lon: 34.2948 / -86.7239
End Date: 02/28/2018
End Time: 04:48 PM CST
End Location: 3 ESE Eva / Cullman County / AL
End Lat/Lon: 34.3059 / -86.7054
Summary: A very weak and short lived tornado touched down Wednesday evening between Eva and Fairview in northeast Cullman county. The tornado first touched down along CR 1526. Here several trees had damage including large limbs snapped and a few small trees were uprooted. A home sustained shingle and gutter damage in this area.
The tornado moved northeast crossing CR 1527. Here some shallow rooted trees were pushed over with others having limbs snapped. The tornado reached a maximum intensity of around 75 mph as it crossed CR 1542. A rather large barn sustained significant roof damage. A nearby home had its porch damaged when the roof sustained partial uplift and movement.
Another barn in an adjacent field also sustained substantial damage with most of the roof being pulled off and damage to at least one supporting side. The tornado lifted in a field just south of Pentecost Road along the Cullman-Morgan County line.
EF Scale: The Enhanced Fujita Scale classifies tornadoes into the following categories.
EF0…Weak……65 TO 85 mph
EF1…Weak……86 TO 110 mph
EF2…Strong….111 TO 135 mph
EF3…Strong….136 TO 165 mph
EF4…Violent…166 TO 200mph
EF5…Violent…>200mph
NOTE:
The information in this statement is preliminary and subject to change pending final review of the event and publication in NWS Storm Data.
Category: Alabama's Weather, ALL POSTS
Scott Martin is an operational meteorologist, professional graphic artist, musician, husband, and father. Not only is Scott a member of the National Weather Association, but he is also the Central Alabama Chapter of the NWA president. Scott is also the co-founder of Racecast Weather, which provides forecasts for many racing series across the USA. He also supplies forecasts for the BassMaster Elite Series events including the BassMaster Classic.