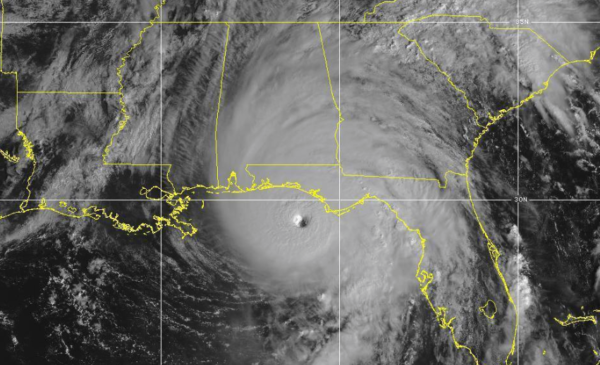 by Bill Murray and Scott Martin
Winds just gusted to 76 knots (87 mph) at the Apalachicola Airport. Their barometer is down to 29.17 inches.
At 10 a.m., Buoy SGOF1 18 miles south of St. George Island measured an 86 mph wind gust.
Sustained winds of 77 mph with gusts to 81 mph were reported at 11:18 a.m. from the St. George Island Bridge.
The bridge between Apalachicola and Eastpoint is closed.
Tyndall AFB stopped reporting at 11:03 when their winds are from the east at 45 mph gusting to 67 mph with heavy rain. The barometer was down to 28.92 inches.
Sustained winds at the Gulf County (FL) Emergency Operations Center are up to 44 MPH with the peak wind gust so far at 84 MPH.
Winds just gusted to 73 mph at St. Andrews State Park.
Footage from social media shows a beach house under construction collapsing on the beach at Panama City Beach.
Also from social media, there are images of more damage already occurring in Florida, as an awning at a gas station has collapsed on to the pumps in Callaway, Florida.
We also have a couple of Tweets from our pal Spinks Megginson that are showing major storm surge flooding in the Indian Pass area of Florida…
Indian Pass, Florida view looking north over Indian Lagoon on the western side of Apalachicola Bay… EXTREME storm surge and wind gusts in excess of hurricane force happening now due to #Michael. @NWSTallahassee @spann pic.twitter.com/iq6GZvPIo7

— Spinks Megginson (@rzweather) October 10, 2018
Indian Pass, FL coastal flooding in Gulf County… View is looking north into Indian Lagoon on the west side of Apalachicola Bay. Wow! @DrLauraMyers @spann @RichardWVUA23 @weswyattweather pic.twitter.com/bqziwMUf2Y

— Spinks Megginson (@rzweather) October 10, 2018
Scott Martin is a meteorologist, graphic artist, musician, husband, and a father. Scott is a member of the National Weather Association and the Central Alabama Chapter of the National Weather Association. Scott is also the co-founder of Racecast Weather, which provides accurate forecasts for many racing series across the USA.