CONDITIONS ACROSS CENTRAL ALABAMA AT 12:15 PM CDT
While the eyewall of Category 4 Hurricane Michael is now about to come on shore between Tyndall Air Force Base and Mexico Beach on the Florida Panhandle, the northern rain bands are affecting mainly the southeast quarter of the state. Rain is falling as far north as Roanoke and Sylacauga, and as far west as Selma. While all of the rain activity is rotating counterclockwise through the area, we can clearly see the northeasterly movement as a whole. For the rest of the area, there are a few lighter isolated to scattered showers. Temperatures at this time are running in the mid-70s to the lower 80s.
WEATHER FOR TODAY AND TONIGHT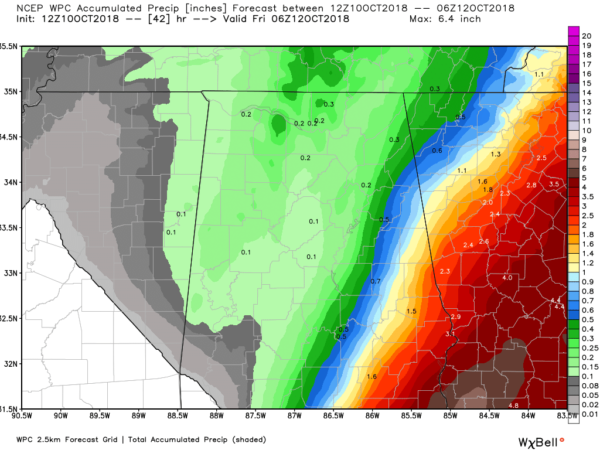 Weather for the rest of your Wednesday and into the pre-dawn hours on Thursday will feature mostly cloudy to completely overcast skies with scattered to numerous showers and maybe a thunderstorm. Rain chances will range from 50% to 100% from northwest to southeast due to Hurricane Michael. Highs will range from the upper 70s to the mid-80s, cooler where there will be more rain and clouds.
Winds may be breezy at times as gusts could be as high at 20-25 MPH for locations north of the I-85 corridor, while much higher up to 50 MPH south of the corridor.
Rainfall amounts for much of Central Alabama will be less than 1/2 inch, while totals of 1/2 to 1 inch can be expected for the eastern location, and 1 inch to 5 inches along and south of the I-85 corridor.
LATEST HURRICANE LOCAL STATEMENT FROM NWS BIRMINGHAM
Hurricane Michael remains a dangerous category 4 hurricane as it moves closer to the Florida panhandle. The storm will remain a major hurricane when it makes landfall later today, but it will rapidly weaken as it moves inland. There is a chance that our southeastern most counties could see a brief window of tropical-storm-force winds on the northwest side of Michael. Heavy rains will also be a threat across the far southeast as the storm moves inland.
WIND
Protect against dangerous wind having possible significant impacts across Pike, Bullock, Russell and Barbour counties. Potential impacts in this area include:
• Some damage to roofing and siding materials, along with damage to porches, awnings, carports, and sheds. A few buildings experiencing window, door, and garage door failures. Mobile homes damaged, especially if unanchored. Unsecured lightweight objects become dangerous projectiles.
• Several large trees snapped or uprooted, but with greater numbers in places where trees are shallow rooted. Several fences and roadway signs blown over.
• Some roads impassable from large debris, and more within urban or heavily wooded places. A few bridges, causeways, and access routes impassable.
• Scattered power and communications outages, but more prevalent in areas with above ground lines.
• Also, protect against hazardous wind having possible limited impacts across areas southeast of interstate 85.
Elsewhere across central alabama, little to no impact is anticipated. Winds may be gusty at times, especially with any shower that moves through the rest of the area.
FLOODING RAIN
Protect against locally hazardous rainfall flooding having possible limited impacts across Pike, Bullock, Russell, and Barbour counties. Potential impacts include:
• Localized rainfall flooding may prompt a few evacuations and rescues.
• Rivers and tributaries may quickly become swollen with swifter currents and overspill their banks in a few places, especially in usually vulnerable spots. Small streams, creeks, canals, arroyos, and ditches overflow.
• Flood waters can enter a few structures, especially in usually vulnerable spots. A few places where rapid ponding of water occurs at underpasses, low-lying spots, and poor drainage areas. Several storm drains and retention ponds become near-full and begin to overflow. Some brief road and bridge closures.
Elsewhere across central alabama, little to no impact is anticipated.
TORNADOES
Little to no impacts are anticipated at this time across Central Alabama.
We'll continue to keep you posted throughout the day and into the night on what is going on with our weather in Central Alabama, along with the latest on Hurricane Michael.
Category: Alabama's Weather, ALL POSTS
Scott Martin is a meteorologist, graphic artist, musician, husband, and a father. Scott is a member of the National Weather Association and the Central Alabama Chapter of the National Weather Association. Scott is also the co-founder of Racecast Weather, which provides accurate forecasts for many racing series across the USA.