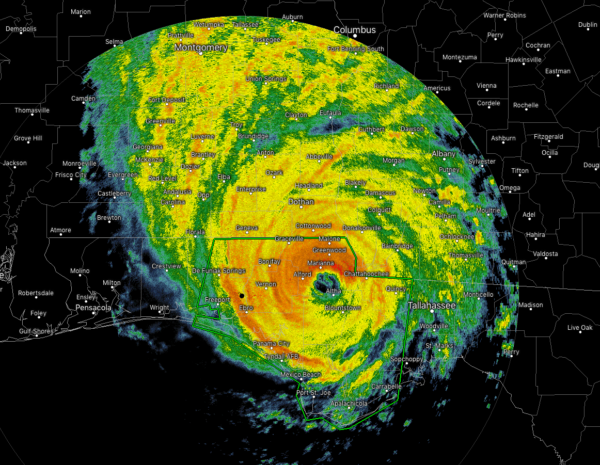 The eye of Hurricane Michael is currently located just to the west of Altha, Florida, and will be crossing I-10 within the next several minutes. The latest statement from the National Hurricane Center has the maximum sustained winds down slightly to 140 MPH, which is only 15 MPH less from what they were at landfall. The minimum central pressure has risen back up to 927 mb. Movement continues to pick up in forward speed, now up to 15 MPH as it continue to head to the north-northeast.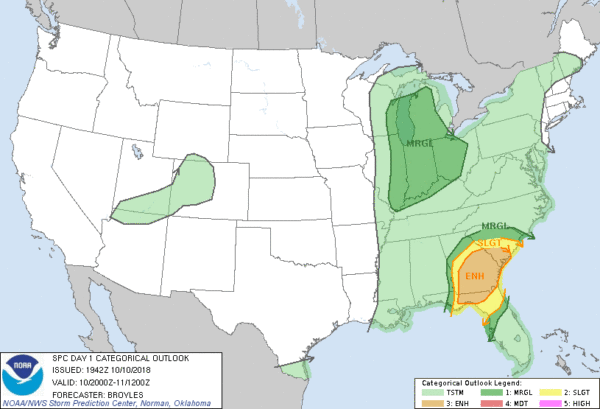 The Storm Prediction Center has an Enhanced Risk for severe storms for much of the southeastern United States mainly for the effects from Hurricane Michael. There is the possibility for tornadoes across the parts of the Florida Panhandle up into the the southern half of Georgia and into the southern parts of South Carolina.
RECENTLY UPDATED WIND GUSTS INCLUDE:
Marianna Florida airport: 102 mph (164 km/h)
University of Florida/Weatherflow Mexico Beach: 83 mph (134 km/h)
Panama City Beach National Ocean Service: 80 mph (129 km/h)
Tallahassee International Airport: 71 mph (115 km/h)
Donalsonville Georgia: 67 mph (107 km/h)
Downtown Tallahassee: 63 mph (101 km/h)
Dangerous storm surge continues along the coast of the Florida Panhandle. A National Ocean Service water level station at Apalachicola is still reporting over 7 feet of inundation above ground level.
KEY MESSAGES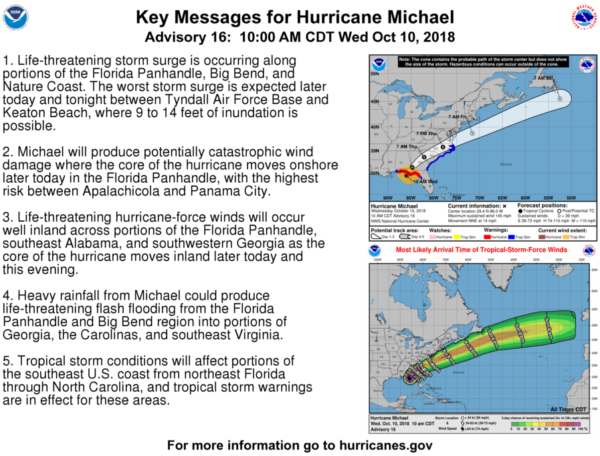 1. Life-threatening storm surge is occurring along portions of the Florida Panhandle, Big Bend, and Nature Coast. The worst storm surge is expected later today and tonight between Tyndall Air Force Base and Keaton Beach, where 9 to 14 feet of inundation is possible.
2. Michael will produce potentially catastrophic wind damage where the core of the hurricane moves onshore later today in the Florida Panhandle, with the highest risk between Apalachicola and Panama City.
3. Life-threatening hurricane-force winds will occur well inland across portions of the Florida Panhandle, southeast Alabama, and southwestern Georgia as the core of the hurricane moves inland later today and this evening.
4. Heavy rainfall from Michael could produce life-threatening flash flooding from the Florida Panhandle and Big Bend region into portions of Georgia, the Carolinas, and southeast Virginia.
5. Tropical storm conditions will affect portions of the southeast U.S. coast from northeast Florida through North Carolina, and tropical storm warnings are in effect for these areas.
Scott Martin is a meteorologist, graphic artist, musician, husband, and a father. Scott is a member of the National Weather Association and the Central Alabama Chapter of the National Weather Association. Scott is also the co-founder of Racecast Weather, which provides accurate forecasts for many racing series across the USA.