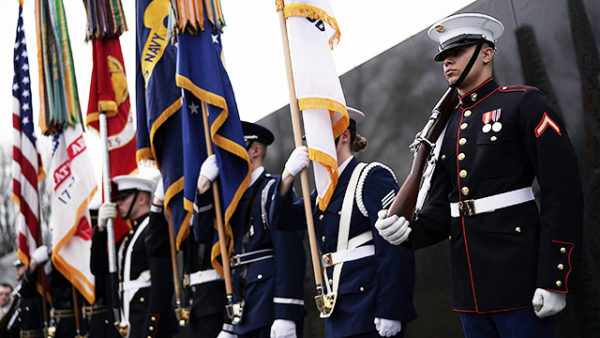 By Shirley Jackson
71st National Veterans Day Parade
Support our courageous heroes at the annual Veterans Day Parade in Birmingham Monday, Nov. 12 at 1:30 p.m. Go here for the new parade route. Preceding the parade, other patriotic events are planned: the Raymond Weeks Memorial Service, a National Veterans Award Reception and the National Veterans Award Dinner on Sunday. The Veterans Memorial Service and the World Peace Luncheon are on Monday.
Veterans Tribute
To honor our nation's veterans, the Alabama Institute for Deaf and Blind has a full day of activities planned at the Marianna Greene Henry Special Equestrian (MGHSE) arena. The day will be highlighted by an F-16 flyover, a skydiving team performance, a patriotic performance by the Talladega College Choir and a performance by the MGHSE Rider's Club. Local veterans organizations will have booths, food trucks and more. The event takes place Saturday, Nov. 10 from 9:30 a.m. to 3:30 p.m. at the MGHSE arena located at 29401 AL Highway 21 S. in Talladega.
Cane Quest Competition
Showcase your Orientation and Mobility (O&M) skills and travel techniques at the Helen Keller School of Alabama (HKS) Saturday, Nov. 10 from 8:30 a.m. to 2 p.m. Cane Quest is a national program of the Braille Institute of America and will involve third- through sixth-graders from across Alabama who use canes in a competition to show off their O&M skills. HKS provides functional-based instruction to sensory-impaired students with multiple disabilities and/or deaf-blindness using an individual approach to living and work skill development. The competitors will complete a course of travel challenges using sensory information, white canes, and their O&M skills. At each challenge station, they will earn coins that can be exchanged for prizes at the Cane Quest Prize story. O&M skills are critical in helping the blind and visually impaired achieve independence in their everyday lives at home, school and in the workplace, and this event will help to promote gaining that independence. HKS is located at 1101 Ft. Lashley in Talladega.
Please visit Alabama News Center for the read the full article.
Category: ALL POSTS, Partner News Stories