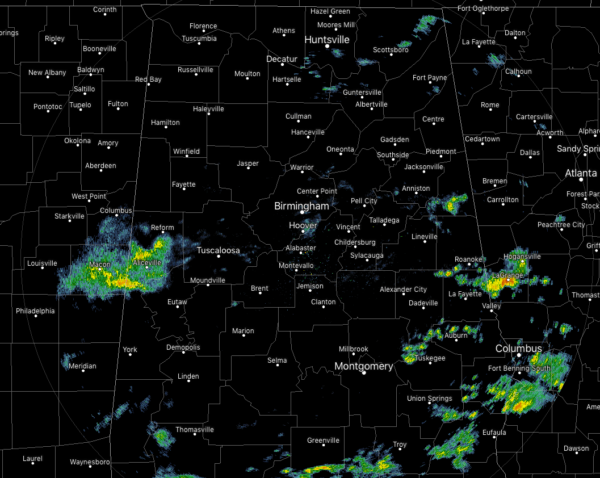 At 12:30 pm, radar is quiet for most across Central Alabama, but we do have some shower activity in the western parts of the area over Pickens and the extreme northern parts of Greene County. This batch of showers is moving to the east at 30 MPH. More scattered showers are over the extreme eastern parts of the area. None of these are heavy in nature, and they are moving to the east at 30 MPH as well.
A wide range of temperatures across Central Alabama at this time, with the lower 50s in the northwest, upper 50s to the lower 60s in the central parts, and mid-60s to the lower 70s in the southeast. Birmingham was at 61 degrees.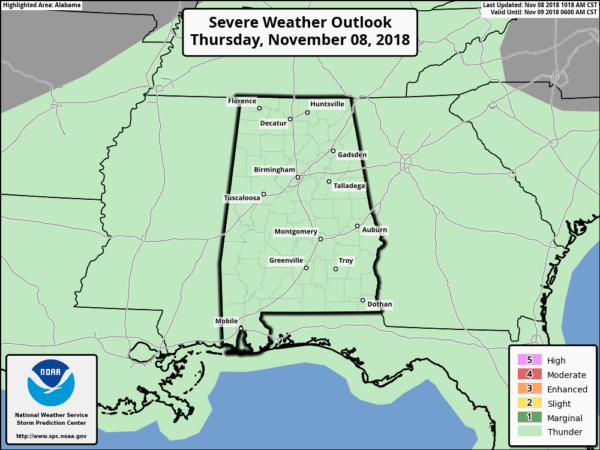 The latest update to the Day 1 Severe Weather Outlook from the Storm Prediction Center shows that the Marginal Risk for severe storms for the southeastern part of the state has been removed, leaving just the typical thunderstorm risk.
We'll continue to have an elevated risk of scattered showers and maybe a few thunderstorms this afternoon and into the early evening hours. Those rain chances will be from 40% in the north to 70% in the south. Highs will top out in the lower 50s to the upper 60s from northwest to the southeast. The rain chances will flip-flop for the late night and into the overnight hours as another cold front will be approaching from the northwest. Overnight lows will be in the upper 40s to the lower 60s from northwest to southeast.
Light to moderate rain will be likely along with cloudy skies throughout Central Alabama on Friday, as a cold front will be moving across the area from the northwest to the southeast. The good news is that the shower activity looks to end for the northwestern-half of the area prior to kickoff for the high school football games, while a few lingering showers may be possible for the southeastern half. Highs will be in the lower 50s to the lower 70s from northwest to the southeast. Temperatures at 6:00 pm will be in the mid-40s to the upper 50s from northwest to southeast, in the lower 40s to the lower 50s by the 4th quarter of those games. Skies will be mostly clear just prior to sunrise and lows will bottom out in the lower 30s to the lower 40s. A few of the colder spots may hit the 20s for a little while.
Category: Alabama's Weather, ALL POSTS
Scott Martin is a meteorologist, graphic artist, musician, husband, and a father. Scott is a member of the National Weather Association and the Central Alabama Chapter of the National Weather Association. Scott is also the co-founder of Racecast Weather, which provides accurate forecasts for many racing series across the USA.