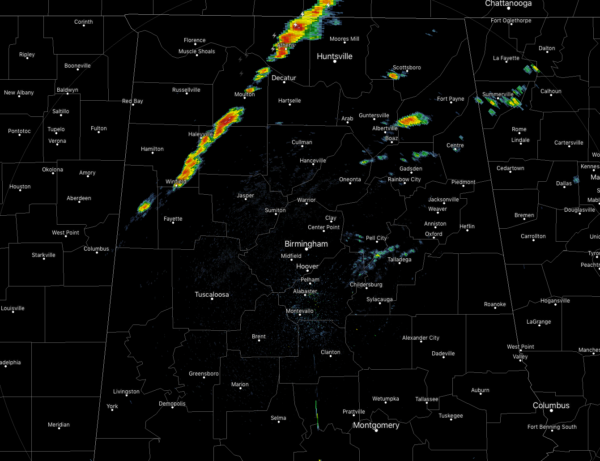 At 9:45 pm, a line of showers and storms along the cold front is making its way across the north and northwestern parts of the state. A few of the cells in the line are still packing a little bit of a punch. The storm that is affecting parts of Limestone and Madison counties has the possibility of strong wind gusts of up to 30-40 MPH. Locations in the path of this particular cell are Athens, Harvest, Madison, Huntsville, Meridianville, Hazel Green, Moores Mill, and New Market.
If you are in the path of this storm, go ahead and get indoors until this thunderstorm passes your location. The movement of this storm is to the east at 30 MPH. There is a decent amount of lightning occurring with this cell as well.
Overall, the threat of strong to severe storms remain small at this point and looks to stay that way until around midnight. With the cold front now making its way through the northwestern parts of the area, there is not enough forcing with the front to initiate the development of strong to severe storms. While some instability remains in the western parts of the state, much of it has now dissipated in the rest of Central Alabama. Surface winds are now starting to become more out of the south and southwest, and with time the development of thunderstorm will be even less likely.
The window for strong to marginally severe storms across the area has now shrunk back to midnight. If any storms do strengthen, they will be isolated in nature.
While at this point, it looks like we dodged a huge bullet. All of the ingredients for a severe outbreak was there, we just lacked the forcing to get the convection initiated. As the conditional forecasts were stating throughout the last few days, the dynamic support moved well enough out of the area before those ingredients came together. We did have the one storm that possibly spawned a tornado over parts of Perry County that caused some minor damage. I'm checking with NWS Birmingham to see if they will be sending a survey team out to inspect the damage on Sunday.
I'll be here manning the blog through midnight. I'll have updates if needed.
Category: Alabama's Weather, ALL POSTS
Scott Martin is a meteorologist, graphic artist, musician, husband, and a father. Scott is a member of the National Weather Association and the Central Alabama Chapter of the National Weather Association. Scott is also the co-founder of Racecast Weather, which provides accurate forecasts for many racing series across the USA.