Saturday was a stormy day across much of Alabama, but the worst of the day was over the southern part of the state. There was a screaming eagle of a storm that moved across parts of Perry, Chilton, and Autauga counties that prompted a tornado warning and resulted in some minor damage, including trees and shingles. There was a possible tornado sighting near Vaiden in Perry County. National Weather Service teams will go out Monday to survey the damage. We are settling into a pattern that will feature active weather on the weekends for the next couple of weeks it appears. We will get into that in a minute.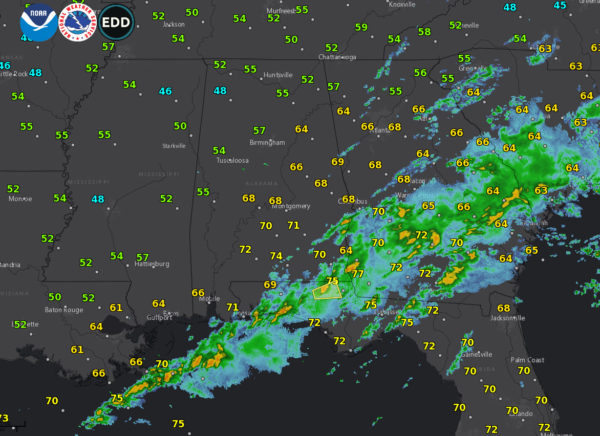 EARLY ON THIS SUNDAY MORNING: A little patchy dense fog has formed over parts of Central Alabama where skies cleared overnight. As of this writing at 5:15 a.m., visibilities were down to 0.5 mile at Tuscaloosa and 0.25 miles at Fort Payne. Most of the dense fog is in the I-59 Corridor. It will burn off by 9 a.m. There still storms over Southeast Alabama and southern Georgia where a tornado watch remains in effect this morning.
RAINFALL AMOUNTS: Rainfall amounts were pretty generous across Central Alabama on Saturday. Birmingham picked up 1.25 inches and Tuscaloosa 1.23 inches, while 2.68 inches fell in Anniston and 2.17 at Calera. The past 365 days have been pretty close to normal across Central Alabama.
A LOOK BACK AT NOVEMBER: Temperatures across the eastern half of the country were below normal in November including here in Alabama. Across the northern half of the state, average temperatures for month ran 5-6 degrees below normal.
NICE SUNDAY: There will be a few lingering showers across southeastern sections of the area this morning, including places like Montgomery, Alexander City, Auburn, and Troy. Temperatures today will be in the upper 60s across North Alabama and lower 70s across the central part of the state under partly sunny.
UPPER TROUGH: The U.S. is dominated by a broad upper trough that will be a feature for the next few days. A couple of reinforcing shortwaves rotating through the trough will allow much cooler and drier air to filter into Alabama during the week ahead. Temperatures will fall back into the 40s to near 50 for highs Tuesday through Thursday. Lows will be near freezing Wednesday and Thursday mornings.
WEEKEND STORMINESS: More storms are due in here next weekend as another surface low approaches from the west. The low will take a more southerly track that this one, which could limit our severe weather chances but there will be another round of generous rain.
VOODOO: Look for another big wet weather system rolling in here around Thursday the 13th.
GULF COAST WEATHER: More rain along the Gulf Coast today, but drier and cooler for the week ahead.
Click here to see the Beach Forecast Center page.
WEATHERBRAINS: This week, the panel will entertain the team that programs the HRRR model, one you hear us talk about a lot. Check out the show at www.WeatherBrains.com. You can also subscribe on iTunes. You can watch the show live at live.bigbrainsmedia.com You will be able to see the show on the James Spann 24×7 weather channel on cable or directly over the air on the dot 2 feed.
ON THIS DATE IN 1988: You've heard of the Rose Bowl. The Orange Bowl. The Sugar Bowl. But the Hurricane Bowl? The University of Alabama had been scheduled to play Texas A&M in College Station, Texas in September, but Hurricane Gilbert caused the game to be postponed when Crimson Tide coach Bill Curry refused to send his team to Texas. The hurricane went into Mexico and ESPN cameras the next day at game time showed brilliantly blue skies and fine weather at scheduled kickoff time. When the game was replayed on December 1st, the Crimson Tide beat the much-heralded Aggies 30-10. Follow my weather history tweets on Twitter. I am @wxhistorian at Twitter.com.
Category: Alabama's Weather, ALL POSTS
Bill Murray is the President of The Weather Factory. He is the site's official weather historian and a weekend forecaster. He also anchors the site's severe weather coverage. Bill Murray is the proud holder of National Weather Association Digital Seal #0001
@wxhistorian