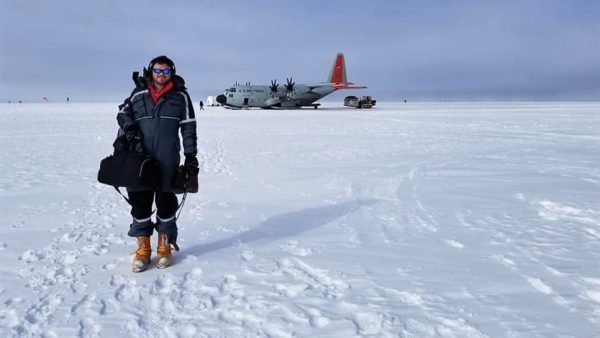 By Adam Jones, University of Alabama
Joshua Nunn had never been outside the United States before graduate school. In fact, he'd never flown in a plane. That all changed on a visit to Greenland, a journey that included a flight on a C-130 military plane.
That's a long way from his hometown of Talladega. And the weather differences during Greenland's "summer," as it's technically called, and Alabama's are vast, too. While people sweltered in Alabama's heat, it never warmed above freezing for the two weeks Nunn and two other researchers from the University of Alabama worked in Greenland.
"The whole experience was a lot of fun," Nunn said. "It was a great opportunity and great experience. I would go again if I could."
He was there to help drag a one-of-a-kind radar across the Northeast Greenland Ice Stream. Developed and built by UA professors and students, the radar helps scientists unveil ancient climate history and provides perspectives on improving climate models.
The team included Nunn, graduate student Christopher Simpson and Dr. Stephen J. Yan, who specializes in ultra-wideband radar and antenna research.
To read the full article, please visit the Alabama NewsCenter website.
Category: ALL POSTS, Partner News Stories