Yesterday started with rain and ended with wind. Before it was over, we had 2-3 inches of rain across much of the area and about 30 reports of downed trees as a gravity wave caused 30-40 mph winds. The rain is not completely gone. Winds will still be brisk today as the surface low over southern Georgia moves out to the northeast. More chilly temperatures and another round of extensive rain are in the forecast as we move through the coming week. Let's dig into the details.
ON THE WEATHER MAPS: This morning, we find an upper-level trough swinging through the Southeast United States and a surface low west of Jacksonville Florida. A few showers continue across Central Alabama, and there will be more lingering showers throughout the day and into the overnight. High temperatures will barely rise today, reaching only the lower and middle 40s across the area. It will be windy as well, with northeasterly winds averaging 10 mph but gusting to 25 mph at times, especially this morning. Skies will remain mostly cloudy. Not much change as we go into the evening hours. Temperatures will fall into the 30s and any lingering precipitation could briefly change over to a few snow flurries. Here is the GFS for early Monday morning showing that there could be a few snowflakes mixed in with any lingering light rain over the northeastern part of Alabama.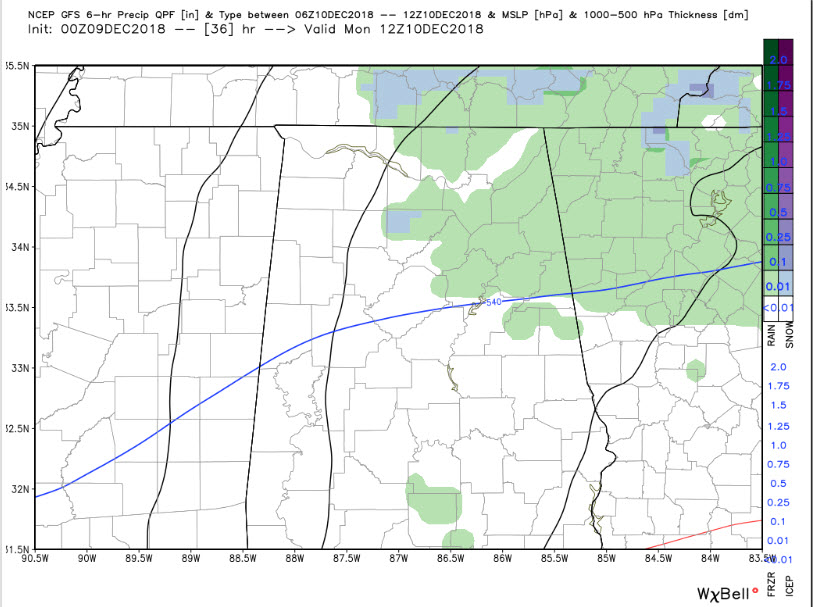 "WILL THE SCHOOLS BE CLOSED?" No. Sorry snow fans. No accumulation is expected and no travel problems are anticipated.
FOR MONDAY: An upper level low will swing through the area, triggering a few light showers or snow flurries. Monday night will be cold, with lows in the upper 20s to near 30F.
TUESDAY AND WEDNESDAY: A high-pressure ridges into the southern United States, fair but cool weather will settle into the area. Tuesday highs will edge back into the lower 50s. Tuesday night will be cold with widespread lows below freezing. Wednesday will be a bit warmer with highs in the middle 50s.
NEXT WEATHERMAKER: Our next weather maker will come in the form of another upper-level trough that will spin up to a surface low by Wednesday near Memphis. This puts Alabama in a favorable position for widespread rain again. The best chances will come late Thursday afternoon into the day on Friday. It will be another soaking rain, and there could be some thunder involved, although no severe weather is expected.
GULF COAST WEATHER: A cool week weather wise along the beautiful beaches of Alabama and Northwest Florida w ith rain returning Thursday afternoon/evening through Friday morning. There will be some thunder involved, but no severe weather expetced. Click here to see the Beach Forecast Center page.
WEATHERBRAINS: This week, the panel will entertain meteorologists from Hawaii! Check out the show at www.WeatherBrains.com. You can also subscribe on iTunes. You can watch the show live at live.bigbrainsmedia.com You will be able to see the show on the James Spann 24×7 weather channel on cable or directly over the air on the dot 2 feed.
ON THIS DATE IN 1786: The Northeast was digging out from the second major snowstorm in just five days. A whopping 41 inches of the white stuff fell at Morristown NJ during the week. 17 inches of snow fell at New Haven CT from this storm alone. Many locations in eastern Massachusetts were blanketed with four feet of snow after the storms were finished. Follow my weather history tweets on Twitter. I am @wxhistorian at Twitter.com.
Category: Alabama's Weather, ALL POSTS
Bill Murray is the President of The Weather Factory. He is the site's official weather historian and a weekend forecaster. He also anchors the site's severe weather coverage. Bill Murray is the proud holder of National Weather Association Digital Seal #0001
@wxhistorian