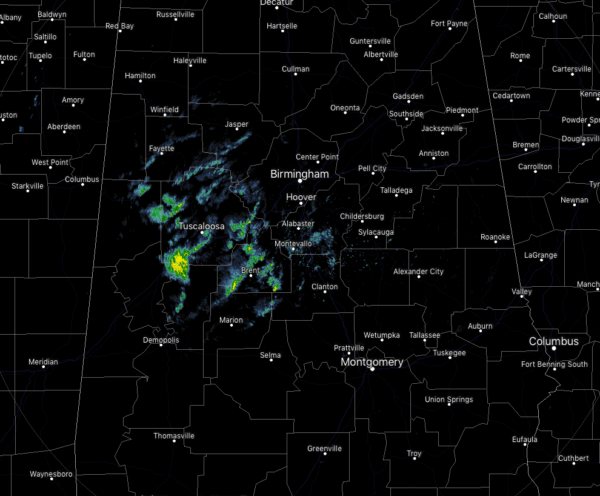 CONDITIONS ACROSS CENTRAL ALABAMA AT 11:45 AM
While we have mostly gray skies across all of Central Alabama at this point on the first Friday of 2019, we do have a few showers showing up on radar over much of Tuscaloosa and Bibb counties, with some lighter showers and drizzle surrounding those showers. It's quite breezy out there as well, with gusts up as high as 25 MPH out of the west-southwest. All of these are moving off to the east-northeast. Temperatures are currently in the mid-40s to the upper 60s across the area, with the warm spot being Eufaula at 69 degrees. Birmingham was currently at 50 degrees.
SURPISE TORNADO WARNING EARLIER THIS MORNING
Earlier this morning at 4:47 am, a Tornado Warning (#0001 for 2019) was issued for northeastern Barbour County in the southeastern part of Central Alabama for a radar-indicated rotation around 10 miles west of Eufaula very close to the Hawkinsville community. The warned cell traveled northeast at 30 MPH but weakened quickly and the warning was allowed to expire at 5:00 am. There have been no reports of damage so far.
WEATHER FOR THE REST OF YOUR FRIDAY
We'll continue to have cloudy skies with some passing light rain or drizzle, along with winds out of the west-southwest at 10-15 MPH, and occasional wind gusts could reach as high as 25 MPH. Temperatures will continue to drop throughout the day as our daytime highs have actually occurred much earlier this morning. By 12:00 PM, we will be in the upper 40s to the lower 60s from west to east and dropping into the 40s all across the area by 6:00 PM. For tonight, we'll have a very small chance of a few lingering showers over the extreme northern parts of the area through midnight, mainly along and north of the I-20 corridor. The rest of Central Alabama will be dry and lows will be in the mid-30s to the lower 40s from north to south.
DRY WEATHER FOR THE FIRST WEEKEND OF 2019
When you walk outside on Saturday morning, don't be scared of the big globe of bright light in the sky. It is not an alien attack on planet Earth. We will finally get to have sunshine and blue skies for a change. Makes me want to sing that song by the Electric Light Orchestra, "Mr. Blue Sky." Those clear skies will continue throughout Sunday as well, as we finally get a nice weekend with decent temperatures. Saturday's highs will be in the mid-50s to the lower 60s while Sunday's highs will be warmer in the lower to upper 60s from north to south.
WEATHER FOR THE NATIONAL CHAMPIONSHIP GAME
At this point, the weekend leading up to the game will be wet and breezy, but conditions for the Alabama/Clemson game at Levi's Stadium will be just a little better. Skies will be mostly cloudy throughout the game with a passing shower or two possible, with temperatures in the 50s. Kickoff is at 7:00 pm CST.
Category: Alabama's Weather, ALL POSTS
Scott Martin is an operational meteorologist, professional graphic artist, musician, husband, and father. Not only is Scott a member of the National Weather Association, but he is also the Central Alabama Chapter of the NWA president. Scott is also the co-founder of Racecast Weather, which provides forecasts for many racing series across the USA. He also supplies forecasts for the BassMaster Elite Series events including the BassMaster Classic.