WISE WORDS: This is a great piece from my colleague Rick Smith, who is the Warning Coordination Meteorologist (WCM) for the National Weather Service in Norman, Oklahoma. He wrote this a few years ago for those that live in Oklahoma, but it is also applicable for people in Alabama. Thought it would be very appropriate to post this today as we are looking at potential snow accumulation Tuesday morning.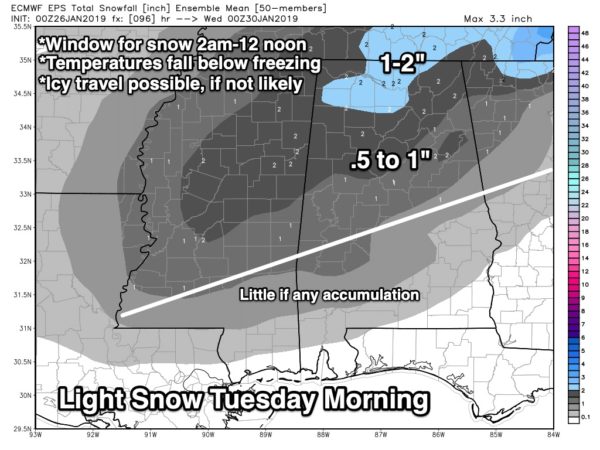 It is an effort to communicate uncertainty. And the words are very truthful.
1. Not everyone in a winter storm warning will get a lot of snow and ice. Some will get nothing at all.
2. It's very unlikely that any snow amount forecast – especially days in advance – will be exactly right. Consider it to be a range of possibilities. Also, those lines on maps dividing snow from sleet from rain look very precise, but they actually have very fuzzy edges.
3. In many cases, we're better at forecasting the general location of where the heaviest snow will happen rather than the exact forecast amounts. Don't focus so much on the exact numbers.
4. We try to provide you with our best forecast of snow/sleet/ice amounts as far in advance as we can. The first forecast numbers won't usually be as good as the ones closer to the event. That's just the way it is.
5. Often there will be a very small area, maybe a county wide, of heavy snow embedded within the main snow band. It is very difficult to pinpoint exactly where this will set up in advance. That's what we mean when we say "isolated higher amounts."
6. If you want the most accurate and up-to-date information, you will have to check the forecast several times a day. Otherwise, you're working with old information.
7. People tend to focus on and remember the highest number, even if it's from a forecast they heard days ago. This is especially true if they want it to happen. If you want it to snow, you'll probably focus on the 6 inch amount if the forecast says "3 to 6 inches".
8. Forecasts from the media, NWS, armchair social media forecasters, and the guy who cuts your hair who knows someone who took a meteorology course in college often get lumped together, and attributed to the generic "they". If the haircut guy says he heard it could snow 8 inches, and everyone else says 2 to 4, many people will remember only that "they say we're going to get 8 inches of snow." And if there's not 8 inches of snow, all the forecasters get the blame.
9. The volume of social media posts about snow is not necessarily directly proportional to the amount of snow we're actually going to get. It seems like the more people are talking about it, the worse it's going to be, but that's not always the case.
10. Having too much snow forecast information can be confusing. Anyone can post an image of the computer model's snow forecast. That doesn't make it accurate or reliable. Social media has made it too to easy to share this kind of information. Choose your information sources wisely and don't blindly share forecasts with big numbers.
Those words from Rick are wise. Let me add one more note… meteorologists need constructive criticism. Especially me. And I am thankful for those that offer it.
But, when you go beyond that and serve up hateful comments with vulgar profanity, it serves no purpose. Unfortunately those posts come often in today's vitriolic world of social media. I have to adopt a "block first, ask questions later" policy when it comes to these people.
Let's take a deep breath and we will get through the week just fine.
Category: Alabama's Weather, ALL POSTS, Winter Weather
James Spann is one of the most recognized and trusted television meteorologists in the industry. He holds the AMS CCM designation and television seals from the AMS and NWA. He is a past winner of the Broadcast Meteorologist of the Year from both professional organizations.