If you look at surface temperatures and radar returns tonight across areas to the west of Alabama, you might become convinced that there is no way it will snow later tonight or early Tuesday. But not so fast my friend.
The airmass over Alabama this evening is still quite dry and low-level temperatures are too warm for any thought of snow.
The advection of cold air behind the front has been weaker than we expected and the rain is outrunning the cold air.
But as that famous cartoon said when the mad professor was searching for the solution to his math problem on the board, "Then a miracle happened."
A powerful upper-level jet streak swinging down the back side of the strong trough approaching the Southeast will cause the cold front to gain momentum. This forcing will cause significant upward motion.
In the meantime, moisture moving in from the west will cause evaporational cooling, working with the cold air advection to drop low-level temperatures quickly to near freezing over Central Mississippi after midnight. This cooling will spread east-northeastward into West Alabam during the pre-dawn hours. As the temperature falls and the atmospheric moisture increases, that upward forcing will cause a heavy burst of precipitation. It, of course, starts out as snow at about 20,000 feet. This snow will be able to find its way all the way to the ground as temperatures through the column will be below freezing all the way to near the ground.
These high snowfall rates will cause quick accumulations, which will cause hazardous travel conditions quickly, first on bridges then on road surfaces.
Look at the differences in the atmopshere between now and 6 a.m. Here is the current sounding off the HRRR: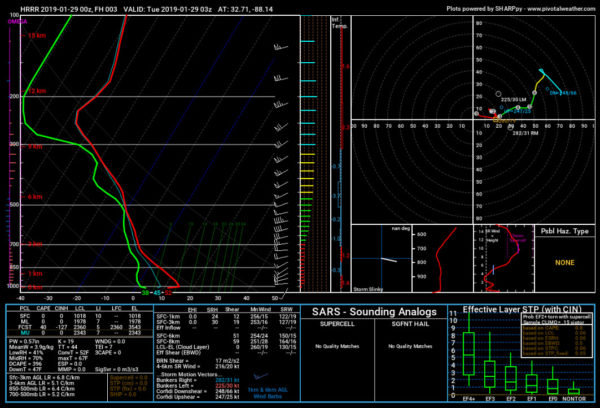 See how the red temperature line is far apart from the green dew point line. That is dry air. That air is also warm. Wacth how that changes by 6 p.m. Here is the forecast sounding for then off the HRRR: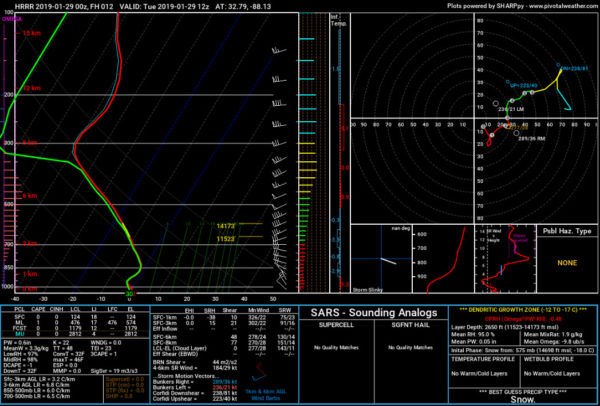 See how the airmass is moist all the way up (temperature and dew point lines close together) and below freezing all the way up as well.
Therefore, an area of heavy snow is likely to set up from Central across eastern Mississippi into western Alabama. Snow should increase starting around 2-3 a.m. in the Tennessee Valley and between 4 and 8 a.m. over West Central Alabama. The snow should reach the I-59 corridor between 5-7 a.m. Snowfall rates of .5 to 1 inch per hour will be happening then.
Accumulations may reach 1-3 inches across a large part of Central Alabama. The heaviest amounts may be over West Central Alabama in places like Livingston, Demoplois, Greensboro, and Moundville.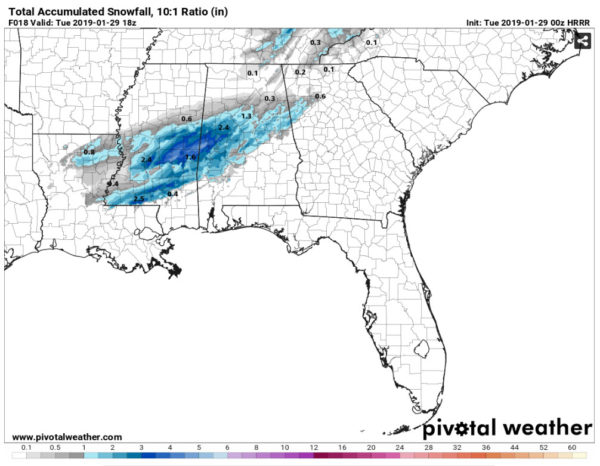 We will be tracking conditions closely through the morning hours and keeping you totally up to date.
Category: Alabama's Weather, ALL POSTS, Winter Weather
Bill Murray is the President of The Weather Factory. He is the site's official weather historian and a weekend forecaster. He also anchors the site's severe weather coverage. Bill Murray is the proud holder of National Weather Association Digital Seal #0001
@wxhistorian