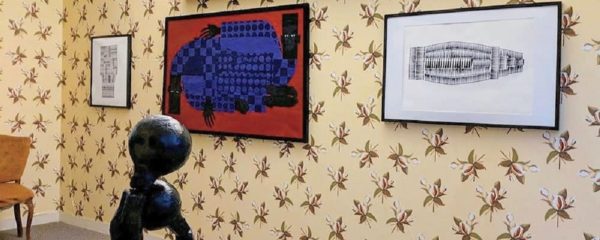 By Anne Kristoff
Jarrett Key knows how to make an entrance. You'll hear him before you see him. After straightening his hair with a hot comb, like his grandmother used to do, putting it up in a ponytail and donning a pair of overalls, he enters a room with a full-throttled bellow, "Heavenly mother guide me." Then, he walks barefoot through the audience, sticks his head into a bucket of tempera, and begins to paint … with his hair.
Somewhere in the crowd will be Jon, his brother, also an artist. They are twins, but not identical. Their work, similarly, is adjacent and complementary but separate and wholly its own.
The Key brothers grew up surrounded by family in Seale, Alabama – their grandfather's cows, their grandmother's lessons and their parents' business acumen and collaborative efforts in creating a life together shaping them both.
To read the full article, please visit the Alabama NewsCenter website.
Category: ALL POSTS, Partner News Stories