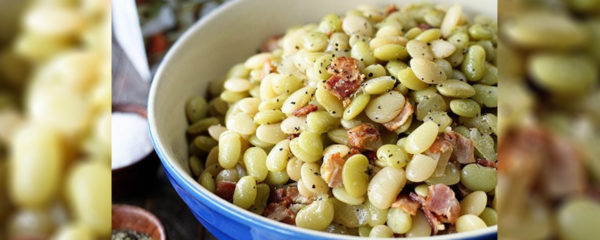 By Stacey Little, Southern Bite
Here's one of my favorite vegetables: the butter bean. Apparently, classifying what is and isn't a butter bean is about as controversial in the South as whether you put sugar in your cornbread – and there are some pretty strong opinions out there about that. For me, butter beans are the fresh variety of small white and green lima beans. For many folks, the term "butter bean" refers to the large dried limas that are rehydrated and cooked. I call those dried limas. And anything of the green variety in between, I've always just called limas. The truth is, they're all limas of some sort. And the best part is this recipe works for just about all of those fresh or frozen limas – regardless of what you call them.
When I was a kid, my grandfather grew them in the garden, but these days I grab them at the farmers market when they're in season and frozen when they aren't. I find that frozen works just as well. I typically buy them labeled as butter beans, but baby limas is also a common term used to label them.
To read the full article, please visit the Alabama NewsCenter website.
Category: ALL POSTS, Partner News Stories