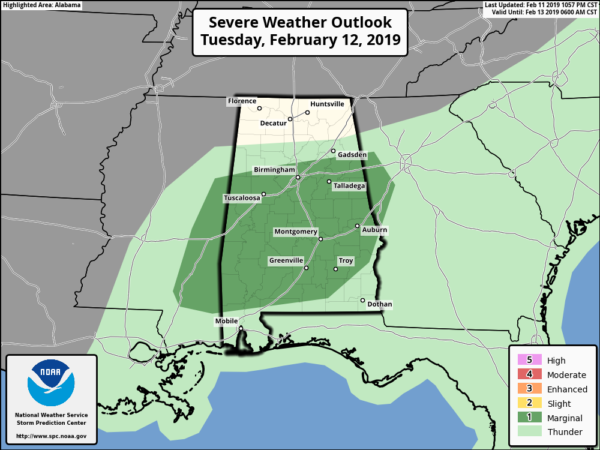 The Storm Prediction Center has nearly all of the southern two-thirds of Central Alabama once again defined in a Marginal Risk for severe storms throughout the day on Tuesday. It looks like the main squall line will be moving through the area a little slower than first shown in the forecast models, and with the heating of the day, that may allow for more instability to build out ahead of the line. At this point, the main threat from this event will be from isolated damaging wind gusts up to 60 MPH. While the threat of a brief spin-up tornado is not zero, but it is almost too low to mention. Tomorrow will be a good day just to have your source of weather information close by just in case a warning is issued. Here is the latest from the SPC as of 10:57 pm CT Monday:
…THERE IS A MARGINAL RISK OF SEVERE THUNDERSTORMS FROM EASTERN MISSISSIPPI ACROSS ALABAMA AND INTO FAR WESTERN GEORGIA…
…SUMMARY…
A few damaging wind gusts are possible from eastern Mississippi across Alabama and western Georgia today.
…Synopsis…
An upper low will deepen across the Great Lakes with an upper trough extending southward across the central Gulf Coast states during the day. Meanwhile, a surface low will deepen as it pivots northeast from IL across southwest Ontario with a cold front extending south and progressing east across the Southeast. Weak instability ahead of the cold front may yield a few strong storms from MS into western GA, as wind profiles will be strong prior to frontal passage. Behind the front, cooler and drier air will quickly spread across the East, shunting instability and moisture offshore.
…The Southeastern States…
A line of showers and a few thunderstorms will likely be ongoing Tuesday morning from MS into AL along a cold front. Lift will be strongest early in the day prior to the surface low lifting farther away from the region. Sufficient low-level moisture with 60s F dewpoints will support weak destabilization, but little to no heating is expected. CAMS suggest a fine line of forced convection along the advancing wind shift, which will likely surge ahead of the main cooling aloft. Surface-based instability will generally be weak owing to the marginally unstable boundary layer, and this may mitigate low-level rotation potential. A few damaging wind gusts are possible owing to the strength of the low-level wind fields, but widespread severe is unlikely.
Category: Alabama's Weather, ALL POSTS
Scott Martin is a meteorologist, graphic artist, musician, husband, and a father. Scott is a member of the National Weather Association and the Central Alabama Chapter of the National Weather Association. Scott is also the co-founder of Racecast Weather, which provides accurate forecasts for many racing series across the USA.