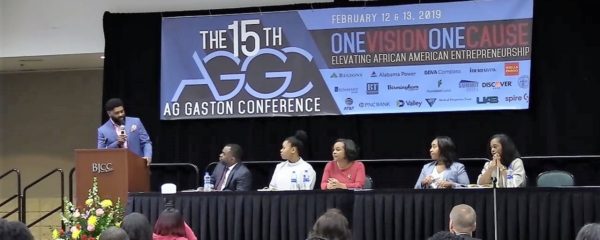 By Mark Kelly
"It's about building an ecosystem that enables people to thrive," declared Anthony Hood. "It takes partnerships between universities, the corporate community, nonprofits, and elected officials. That means cooperation and, in Birmingham, we've never seen the level of cooperation that we're seeing today."
Hood is director of civic innovation at UAB, and his comments came in the introduction of a panel on that topic at the 15th annual A.G. Gaston Conference in Birmingham. The conference bears the name of the late entrepreneur and philanthropist who was a grandson of slaves and built a business empire in the segregated Birmingham of the mid-20th century. By the time of his death in 1996, at the age of 103, Gaston had long been hailed as one of Alabama's greatest citizens.
The 2019 edition of the conference was devoted to the theme "One Vision, One Cause: Elevating African-American Entrepreneurship." That theme reflects the current attitude in Birmingham, a city that is enjoying what numerous speakers referred to as a "renaissance" as it continues to emerge as a center for technology-related business growth.
To read the full article click here to visit the Alabama Newscenter website.
Category: ALL POSTS, Partner News Stories